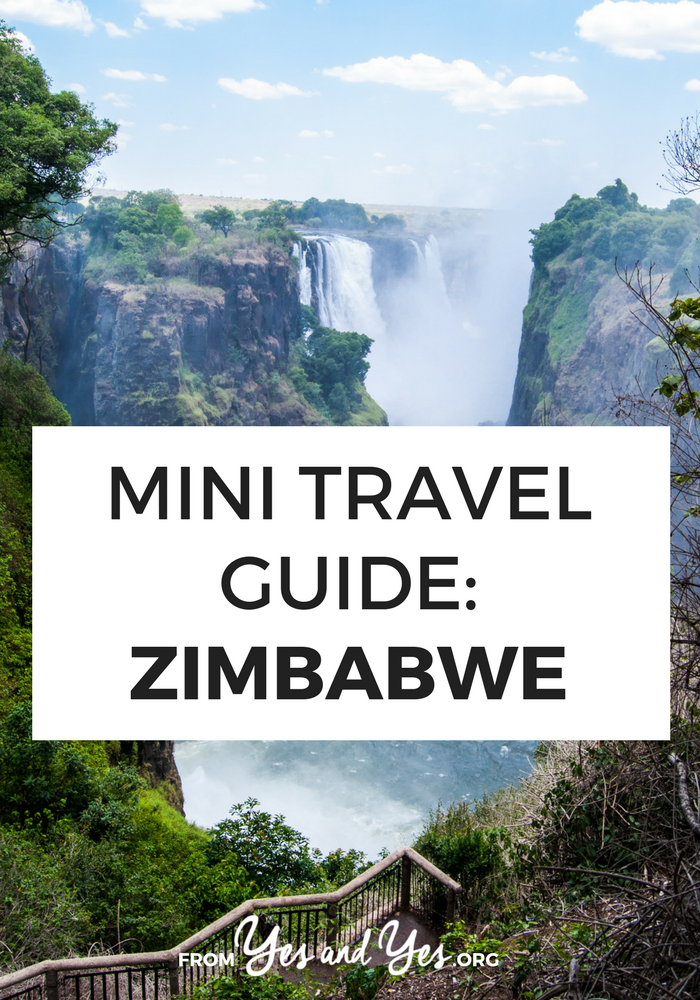 Looking for a travel guide to Zimbabwe – land of waterfalls elephants? I brought in a local to share her best Zimbabwe travel tips with us – what to do, where to go, and how to do it all cheaply, safely, and respectfully.
---
I'm Tracy and I want to tell you about the magical and misunderstood country that is Zimbabwe.
I was born in Zimbabwe, or "Zim" as we call it. My family left for South Africa when I was little, moved back during my early high school years, where I lived until I emigrated to Australia after university.
Although I no longer live in Zimbabwe, it's in my blood and I regularly go back to visit. When I attempt to explain to people what Zimbabwe is like I say that it's very much: The Wild Wild West but with lions.
I experienced a great sense of freedom growing up in there. Riding motorbikes in flip-flops, driving cars without a license and sneaking into bars was all part of the deal. It made me the person I am today.
If you are looking for a holiday where everything is immaculate, schedules run on time and your breakfast smoothie is served on a silver platter you should consider somewhere like Switzerland. If you are looking for an adventure in a country that is guaranteed to get under your fingernails find your way to Zimbabwe.

Must Go in Zimbabwe
When you have stood on the edge of the gorge, soaked from the spray, rainbows everywhere you look, feeling the water thunder over the sides, you will know why it is one of the seven Wonders of the Natural World.
Kariba is the largest man-made dam in the world in terms of water capacity. I have so many memories from holidays spent on the dam: The first time I caught a Tiger Fish. The first time I got tipsy. Jumping off the top of houseboats in the middle of the Dam.
New Year's Eve Parties under the stars. The hush when the generator gets turned off for the night. Sharing my morning cup of tea with a herd of elephants.
You don't have to go far to feel like you are in 'the Bush'. The best spots are places like Hwange, Malilangwe, Mana Pools, Matapos, Gonarezhou and Victoria Falls, but there are camps close to Harare like Imire if you don't want to stray too far from civilisation.
Must Do in Zimbabwe
Watch a sunset over Kariba
Kariba sunsets have to be amongst the best in the whole wide world.
Get stuck into some extreme adventure activities in the Falls
Bungy jumping off the Victoria Falls Bridge, white water rafting in the Zambezi River, swinging across the Batonka Gorge and drinking in a backpacker bar will all get your adrenaline pumping.
Tourists are usually looking to tick The Big 5 (i.e. lion, rhino, African elephant, buffalo & leopard) off their bucket lists, but my favourites are giraffes.
Must Eat in Zimbabwe
Zimbabwean cuisine is not world-renowned and tends to very simple. There are a few dishes though that you should try:
Sadza ne nyama ne muriwo
Thick maize meal porridge (sadza), meat (nyama) & leafy green vegetables (muriwo).
Dried Meat
Kapenta — freshwater sardine, dried on racks in the sun.
Biltong — dried red meat, similar to jerky.
Any kind of meat looked on the braai (Afrikaans word for a barbeque)
Fresh bream, filleted, rolled in flour, fried & served with lemon. (Extra points if you catch the fish yourself.)
Cultural Tips for traveling in Zimbabwe
Shona and Ndebele are the widest spoken languages, but everyone speaks English. However there are few often-used slang words that tend to confuse people:
Shamwari means friend in Shona and is frequently used in conversation like 'mate' is in Australia.
When you hear anyone referring to zesa (pronounced zhe-sah) they are talking about electricity. Parts of Zimbabwe are often without power and people can frequently be overheard saying: We have no zesa today. (ZESA stands for Zimbabwe Electricity Supply Authority.)
Mushi (pronounced mooh-shee) – Good
Robots – Traffic Lights
Buddy card – Airtime credit for your mobile phone, which can be purchased from guys hanging around at robots.
Monkey's wedding – The sun shining through the rain
Circle – Roundabout
Muti (pronounced moot-ee) – Medicine
Takkies – Sneakers (Afrikaans)
Bakkie (pronounced buck-ee) – Truck (Afrikaans)
Cheap travel tips for Zimbabwe
Zimbabwe isn't particularly cheap due to a lack of infrastructure and economic instability.
Public transport is also unfortunately nonexistent. However, in cities like Harare and Bulawayo you can catch commuter omnibuses for about 50c a trip if you don't mind squishing up.
A good way to see the country on a budget is by taking an overland tour or by doing some volunteering.