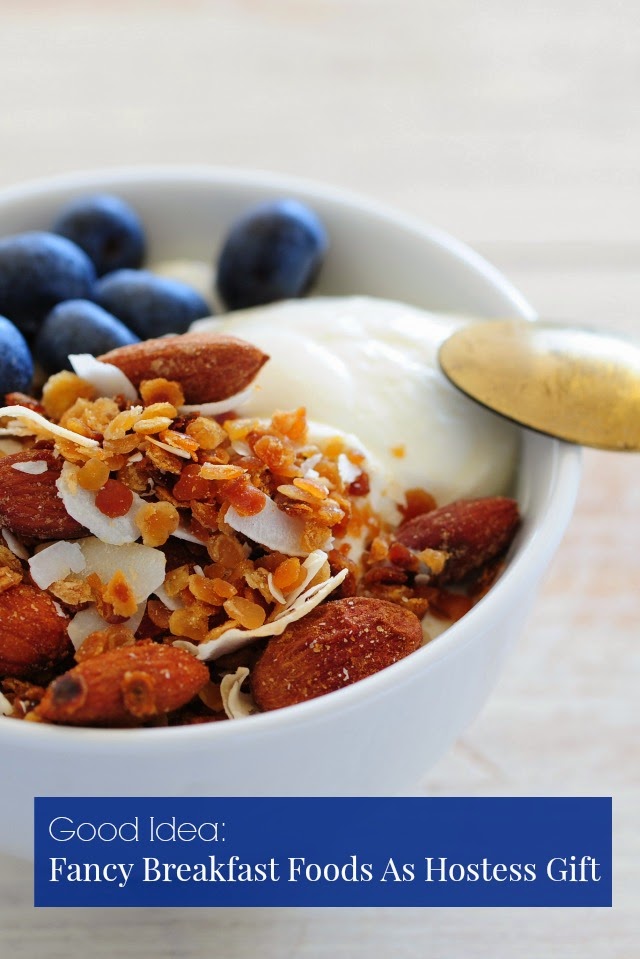 My friend Kate is one of those humans who's so put together and on top of it you'd resent her if she wasn't so awesome.
Like, why do you have the answer to almost every question, Kate?! And why is your hair always so shiny? And how did you find the world's most perfect winter coat while the rest of us are toddling around in sleeping bags with arms?!
Annnnnyway, Kate recently introduced me to The Sweetest Hostess Gift Idea and I'm passing it along to you guys so we can all 'win' at dinner party guest-ing.
Next time you attend a Friday or Saturday night dinner party, instead of more wine or flowers, bring your hosts fancy breakfast treats! They'll think fondly of you the next morning when they're nibbling on your treats among the dirty dishes and empty wine bottles that mark any successful dinner party.
If you're a DIY-er you could make some
Oatmeal Cookie Granola
 or a
Spicy Zucchini Frittata
. If you're more of a pick-something-up-at-the-store type, you could gift them some
amazing donuts
, mimosa-makings, a loaf of artisan bread and some ripe avocados, or just some berries and nice Greek yogurt!
What's your go-to hostess gift? I like to give these as house warming presents!

photo by jules // cc