This is one of many True Story interviews in which we talk to people who have experienced interesting/challenging/amazing things. This is the story of Heather and her decision to move to a commune in Costa Rica.
Tell us a bit about yourself! 
Once a country bumpkin, now even more of one? I spent my childhood in a tiny town southern Maine, and generally hopped around the northern realm until I moved to Montana in my mid-20's. These days I call northwestern Costa Rica's Guanacaste Peninsula home- in a community called
PachaMama
.
I wear a few different hats in my professional life: here in the commune I do social media and marketing, as well as teach yoga. On my own, I am a life coach and work remotely with people all over the world. And I kind of can't believe it, but I'm 30. 30!
For those of us who don't know, what exactly is a commune?
This is a tricky one- it can mean so many things, depending on the intention of the people who create the space! In our case, we're international- though a large number of the residents here are from Israel, so we're kind of modeled after a kibbutz. There are about 70 residents, individuals as well as families, who choose to live together in a community because we are drawn together by a unifying purpose and intention.I've only been here for a little over a year now, so I can only speak to the current expression of the commune- the path of meditation and silence, inner work, living closely to the spirit of the land, and creating a 'mystic school' of sorts. We host retreats, workshops, cleanses, and other transformational events and experiences throughout the season.
Our commune isn't entirely self-sufficient in the way that many would think- here in the jungle we're still learning how to use the wisdom of permaculture to grow our own food. It's tough going with all the creatures and the extremes of the climate! We harvest a lot of the super foods that grow around here naturally and do our best to make as many of our own products as we can, though. And of course- there is a big emphasis on creating as little impact on the earth with our lifestyle as possible.
I'm sure when a lot of people hear 'commune' they imagine polyamory and soy milk. In your experience, what are some of the biggest misconceptions about commune living?
Hah! I think you nailed two of the biggest ones, right there.
What I actually see most often, to be quite honest, is a total projection of what it must be like to live in a perceived utopia. That everyone always is happy-go-lucky and totally in love with each other. That money grows on trees (yes, we still need money to exist, even in a commune!). That nobody ever gets stressed, or sick, or tired.In reality, it's like living in a constant workshop. Every day is an opportunity to look closely at your judgements, your fears, your self-doubts, your communication skills, your personal agenda- because in a small community like this one, it's in your face, 24/7, being reflected back to you for your care and attention. There's still heartbreak. There's still stuff to fix in the house. The kids still throw temper tantrums. We're regular people living in a magical place, sure- but there's still Real Life stuff to take care of.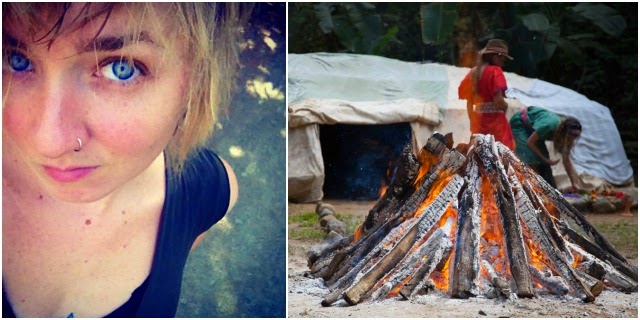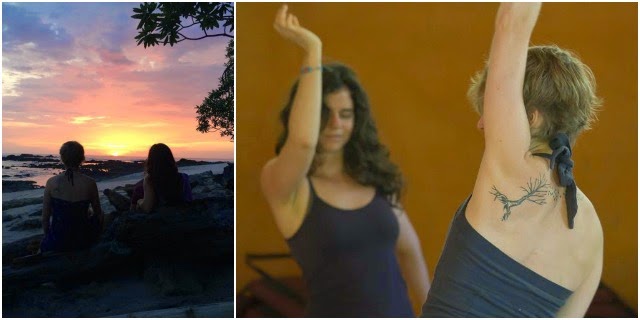 What appealed to you about living in a commune rather than just, say, moving to the country or sharing a house with a few friends? 
It actually just kind of… happened. A calling on the astral. Who knows. I came here a few years back to do a yoga training without any knowledge of the full depth of this place, and completely fell in love. When I left to go back to the US I knew I had to come back for longer to really drop in and meet the essence of the community. I knew there were untouched depths. I wanted to know more and to dive deeper. The energy of an international community really inspired me to expand what I believed to be available to me! I'm fortunate that my work as a coach and yoga teacher allows me to do my work from here.
It's possible that moving in with a few friends could've somewhat scratched the itch, but living in a very dynamic community just feeds a part of me that always craves adventure and challenge. I meet new people constantly as visitors come and go, and I'm constantly learning from everyone's journeys… it just suits what I need in life. I think a lot of those who live here fall in that category… we're seekers. Travelers. We're always looking for opportunities for growth and expansion.
How did you get into the commune? Did you have to 'apply'? Do they have a set number of openings? What are the logistics surrounding membership?
Becoming a part of PachaMama is more based on staying here for a while as a guest, getting to know the community, the energy, the intention of the place, and learning whether it's a good fit on both sides. One has to be really, really in tune with the intention and energy of living in a commune for it to be a beneficial adventure!From there, a conversation is had with some of the longtime residents around making the commitment- it's a much more heart-centered process than logistical. It's really becoming a part of the family- sure there are practicalities, like weekly meetings for making decisions and keeping everyone plugged in, but it's just got to feel right.
Tell us about commune's lodging and the day to day! 
This is another common misconception, at least here! Although in the early days of the commune everyone lived in tents, now that's not the case. I'm blessed to live in a beautiful, simple house- since we are in Costa Rica, most of the houses are some sort of open design, sometimes with one entire side of the house open to the forest. With electricity and internet, yes- though those are sometimes subject to the weather and the stars it seems!
We do have a commune "restaurant" that serves three meals a day, which is especially important for the times of year where we have a lot of visitors here for workshops and retreats. A few of the residents staff the restaurant and, I must say, make incredible vegetarian, high vibration food! We do also have kitchens in most of the houses, so I usually do breakfast at home.
Most of the residents have some sort of job in the community… whether working in the office, caring for the facilities, tending the gardens, or working in the school. And we have a thriving volunteer program- these travelers bring so much life and new energy and teachings to the community and help keep everything flowing, so this program is really vital.
With 70+ residents, I'm sure conflict is bound to arise. How do you guys work through that? 
We use many of the same techniques we use in our group workshops- sharing circles and processes, offering a safe space for people to air their concerns and grievances. You know, I've already learned so much from living with so many non-Americans about communicating clearly and honestly. Other cultures aren't so afraid to say what they mean, clearly and concisely. It's been a real deprogramming of my American sensitivity to what we perceive as "harsh" truth!
The 'leader' question is always an interesting one. We have a teacher, a spiritual guide, and an inspiration named Tyohar. He was the catalyst for bringing this community together years ago, when the original group of intrepid adventurers pitched the first tents, and he continues to be a guide in this grand social experiment. He's incredibly committed to the vision of the community, and protective of the meditative space. The "Buddha Field", he calls it.
He's also an incredible DJ, wildlife photographer, and rabid football (soccer) fan 🙂
What personality traits does someone need to 'be good at' commune living?
You can't take things personally… otherwise it's easy to get offended daily because you're with the same little community through thick and thin, and people are bound to be in a bad mood at some point! Flexibility is also key. If you're attached to planning and predictability, you're setting yourself up to go crazy. Clear and direct communication is a must, so you need to be willing to express what you really think and feel in a given moment. A desire to live in a constant state of problem-solving and growth. There are always challenges to be addressed, and we've got to approach it as a unified community! "Status quo" just doesn't exist in this kind of community.
What has surprised you about this?
I think perhaps what I underestimated the most was just how differently we all approach daily life. I'd met people from a wide number of countries before but never fully understood the depth of those subtle differences! Like I mentioned before, as an American I'm in the minority here, so I've really had to learn how to connect and communicate all over again. Pretty much everyone else in the world communicates way more clearly and directly than we do. That was a challenge at first.
How long do you anticipate staying there?
A good friend of mine says the title of my autobiography should be, And Then, We'll See. I don't know, to be honest! At the moment I'm super happy living here. And I could imagine myself being here for quite a long time. But I'm also completely open if life guides me on another adventure along the way!
What's one thing you've learned from this that any of us could apply to our daily lives? 
While you're looking at a group of friends, imagining yourself to be an outsider, they're looking back at you and wondering, "Why doesn't she come and say hi?"