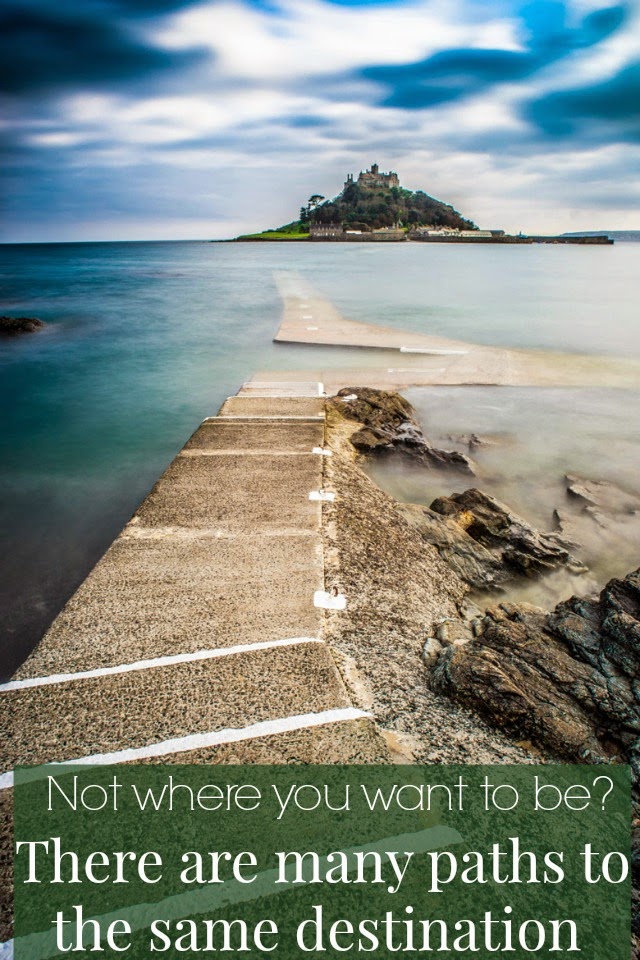 I was sitting in the sunny corner of Mrs. Buisman's third grade class when I decided that I wanted to be a writer. Of course, I imagined the path that would take me there would be paved with a wildly successful book series about talking otters.
When I was 20, I thought my path was writing for newspapers.
When I was 22, I thought I'd reach my destination by scribing press releases.
When I was 25, it was ad copy.
These days I pay for my pho and Old Navy Rockstar Jeans by
ghostwriting blog posts
and even entire books for other people.
I've achieved my childhood dream! Hugs and high fives to Mrs. Soderquist and Mrs. Kanz and Mrs. Lofgren and every other teacher who encouraged me and my overwrought fourth grade metaphors and creepy stories about dead racehorses. I've reached my destination; the path has looked somewhat different than what I expected. 
When we're starting on just about any adventure, we imagine a point A to point B path. We're aware that it'll take hard work and commitment to reach point B, but if we play our cards right, we'll get there.
And though we're aware of the hard work involved in getting what we want, I think many of us imagine pretty specific paths.
Committed relationship >> lady partner easily gets pregnant >> family
high school >> college >> job in an area you studied >> increasing responsibility >> dream job
meet someone >> date for 2-3 years >> get married
Those are awesome paths! But there are other, completely valid ways to get where you want to go.
You can reach your destination of parenthood via
Getting pregnant "the good old fashioned way"
IVF
Working with a surrogate
Marrying or partnering up with someone who already has kids
You can reach your destination of self-employment by 
Slowly building a portfolio while working a day job
Totally changing careers to something that's more freelance friendly
Acting as a contractor for just one client
Having several sources of freelance income that add up to a livable salary
You can reach your destination of skill mastery by
Getting a college degree in it
Taking heaps of online courses and reading every book you can get your hands on
Learning on the job
Apprenticing to a master
Interning
I mention this not because one path is better than the other but because
many of us become blind to our options.
We become down-to-the-bone
convinced
that there is A Best Way (nay, the only way!) to get what we want. We spend months or years machete-ing our way down a path that isn't working – failed IVF treatments, a collapsing publishing industry,
a degree that we hate
.
If you've been swashbuckling a tough path, don't give up on your destination. Just shift your gaze a few feet to the left, a new path might present itself. 
P.S. This post is dedicated to my incredibly driven and intelligent
man-partner
. After getting kicked out of college (twice), getting his PhD at 35, taking a job in the private sector well outside his field of study, while professor-ing and lecturing on the side to keep his foot in the door – last month he finally reached his destination: Senior Climatologist for the state of Minnesota. It's been a long, winding path from his childhood fascination with tornadoes and I'm so, so proud of him.
Photo by Giuseppe Milo // cc