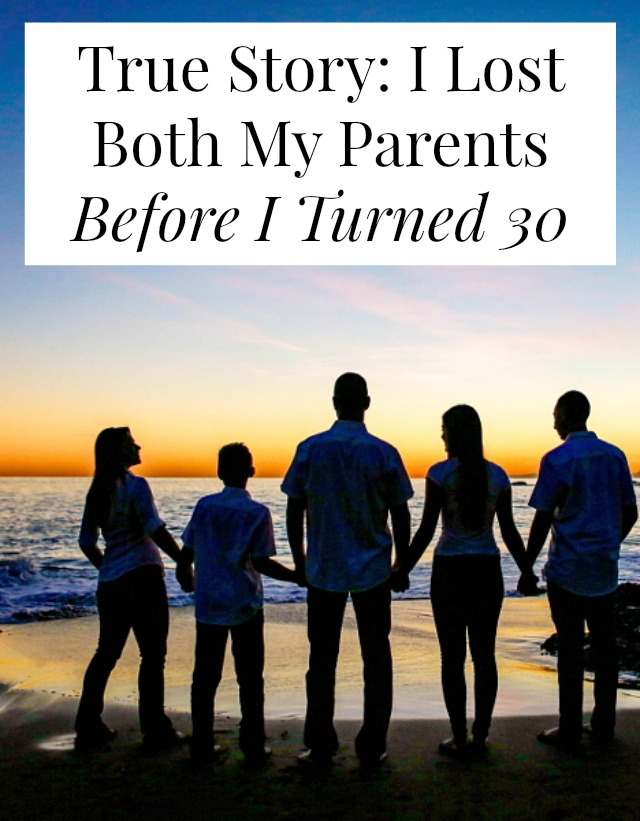 Tell us a bit about yourself. 
I'm from central Scotland, near Stirling (a small town often associated with Mary Queen of Scots and William Wallace!). I'm 30, and work in student administration at a university in the capital, Edinburgh. I love walking, reading (especially Agatha Christie and Conan Doyle books), weightlifting and hanging out with my boyfriend and our two cats.
Could you give us a snapshot of family life when you were a kid?
Family life was pretty good when I was little – we lived in a big, old house. We often went for walks together in the glen near our house. My parents were both working full time from when I was 6 and my sister 10, so I had a childminder (who was like a second mum). Mum was definitely my favorite, and my sister was a daddy's girl. Mum was loud, funny, very loving and bossy. Dad was wistful, hard working, musical, and loved being silly.
How did your mother pass?
My mum died after about two weeks of illness over the Christmas holidays – a bad virus became flu, what doctors didn't realize was that a blood clot had developed in her leg. It traveled up her leg to her lungs and she stopped breathing (Deep Vein Thrombosis). She died 10 days after the New Year, 2000.
How did your dad deal with losing his wife? How did you and your sister deal with losing your mom?
Dad went on autopilot when mum died, and then went back into work mode (he was always quite a workaholic). I also went on autopilot; she died the first day of school so there was all this normal stuff happening at the same time. I remember I kept stroking dad's chin and telling him he needed to shave.
About three days later I decided to go to classes because I couldn't think of anything else to do and I wanted to be with my friends. My sister had it worst – she was actually travelling in Australia when my mum passed, she had to travel half way across the world and didn't get the chance to see mum before she was taken to the funeral service (we had a Humanist service, and mum was cremated).
How did your mom's death change your family?
We pretty much lost the root connection when mum died; she tied us all together and was especially good at helping translate between what were then too very emotional teenage girls and a man who had no idea how to handle that. Without her, we had to find a whole new way of talking to each other.
When dad was home with me it often felt like I was living with a stranger, I preferred him to be out of the country working (a lot of anger now I realize looking back). My sister stayed in England for about 10 years, she couldn't settle back in Scotland for a long time.
When did your dad discover he had Lymphoma?
I'm not really sure; he preferred to deal with things himself rather than be 'a burden' on others. I think he had really bad skin problems for about a year and a half before he was diagnosed. For a long time, he just thought he had an allergy.
How did you react when he told you?
I acted like we were having a normal conversation (on the outside), but inside my heart skipped a beat when I heard the word Lymphoma. I just asked lots of innocuous questions. Our family are masters of autopilot! It was only when we had to cut a walk short because his feet hurt so much that I realized he must have been in a lot of pain (my Dad LOVED walking, and had such a big stride I used to have to run and skip just to keep up).
Was your dad's death different for you than your mom's?
Definitely – mum's felt really sudden, Dad got progressively worse over a few years and then took a dive over two weeks. We could sense his death coming, and our relationship was a lot more complicated so it was a confusing time emotionally.
How have you coped with this?
With A LOT of talking – although I only really did this properly after Dad died (I really wish I'd done it when mum passed away). For me counseling sessions at one of my local centers was the breakthrough – I felt safe to be angry, sad, ridiculous, and moany and not feel self-conscious about that. People kept telling me how strong I was being, but I was just walking through life like a zombie. I'd kept my emotions bottled up until I went to see someone.
I also smoked weed consistently from the year after my mum died until I was 29 – which I used to numb the pain.
Internet chat rooms were great, I could find people going through the same things but not need to be in the same place (and could still hide at home in my pajamas if I wanted to!)
How do you feel when you hear people complaining about their parents?
Bemused. Heartbroken. Caught between wishing I had a parent/parents to moan about and knowing if I did I'd probably be bitching in just the same way without thinking about it for a second! I try to remind myself of the latter, especially when I've had the 20th FB post about Mother's Day.
Has this changed the way you feel about having kids or building a family of your own?
To be honest I'm weary about ever raising a family, it was heartbreaking to lose mum and dad so the idea of losing someone else (or them having to go through losing me) is terrifying. Both my parents died at the hospital too, so the idea of giving birth in that kind of environment has underlying anxieties for me. At the same time, I know I'd love any family with all my heart.
If we know someone who has lost a parent, how can we best be supportive? What are some things we SHOULDN'T say or do?
Like all grief, it can be so different from person to person. I'd say – most important to offer your support, give lots of hugs if they're hugging people, or just sit with them if that seems about all they can take. I also valued doing 'normal' things, even if it was just playing the Playstation or watching the Matrix for the umpteenth time. I LIVED off tuna pate and bagels for a while and cups of tea (comfort food). In Scotland, cups of tea are like an automatic solution for most problems.
If a person is religious saying 'they're at peace' or 'in heaven' might be a comfort, but if they're atheist or humanist and you're religious try your best not to impose your own beliefs (even unintentionally, and the grieving person knows this, it can still jar).
Most of all have patience, emotions can spill out in lots of unexpected and weird ways. After losing my parents I often got really upset about tiny things that had nothing to do with what I was actually doing at the time. It meant a lot not to be judged for that.
What's one thing you've learned from this that any of us could apply to our daily lives?
Life can be very hard; there are a lot of things that you have no control over. You could be in a great place and suddenly hit a rough patch and vice versa. It can be hard to accept this, but try if you can. Realize the value of those close to you (friends, family or both). Don't fear trying something new, and don't follow the path you think you should just because that's what you were taught.
Thanks so much for sharing your story. Do you guys have any questions for her?