Looking for a recipe from To Kill A Mockingbird to impress your book club? Ben has us covered with this amazing recipe that you'll want to make even if you haven't read this book since eighth grade!
---
If you happen to have found yourself living like a young Kimmy Schmidt the last few months you've missed the release of Harper Lee's second novel, Go Set A Watchman. With the flurry of excitement that comes with this release, there has been increased chit chat at the work lunch table about Ms. Lee and her classic novel, To Kill A Mockingbird.
Having not read the book since my youth (and not enjoying it at the time) I was very intrigued to hear the opinions of my Southern co-workers, who grew up in a time where To Kill A Mockingbird was more current fiction than historical. To them, the adventures of Scout, Jem, and Dill were shared memories of a less complicated time.  With all the chatter around the lunch table, I thought it best to pick up a copy of To Kill A Mockingbird and give it a second chance.
I wasn't but a few chapters in that I abandoned my high school English class point of view and started to appreciate the story that my co-workers spoke so fondly of. And though I know the novel teaches us many things, my new interest was greatly influenced by the food that is casually mentioned throughout.
Having relocated to The South within the last year, I have spent many meals trying "new to me" Southern delicacies. So when cracklin' bread was mentioned I was excited having heard stories about grandmothers actually having made this. Between the collards, scuppernongs, bread and butter and sugar sandwiches there is enough food mentioned to make this an unofficial cookbook of The South.
Making repeat appearances in To Kill A Mockingbird is a Lane Cake. This cake whose Alabama origins date back to 1898 is simple to make (and can be made more simple if you choose to cheat with a box mix) and has booze it is. So win-win. Below is a more traditional approach to the cake. However, like I said, I am sure you could speed up the process with a box mix if you desired. Just don't skimp on the bourbon.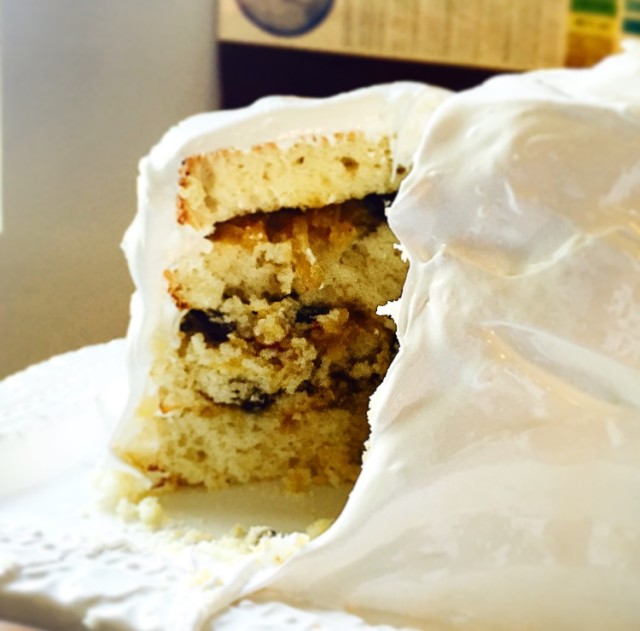 Lane Cake recipe from To Kill A Mockingbird
Cake:
16 tbsp. unsalted butter, plus more for greasing pans
3 ½ cups cake flour, sifted
4 tsp. baking powder
½ tsp. kosher salt
2 cups sugar
1 tsp. vanilla extract
1 cup milk
½ tsp. cream of tartar
8 eggs, separated
Filling and Swiss Meringue Icing:
2 ½ cups sugar, divided
½ cup bourbon or brandy
8 tbsp. unsalted butter, cubed
1 cup raisins
1 cups chopped pecans
1 cup grated coconut
1 tsp. vanilla extract
2 tbsp. light corn syrup
¼ tsp. kosher salt
4 egg whites
Instructions
Make the cake:
Heat oven to 350°. Grease and flour two 3-inch-deep 9-inch cake pans; set aside. Whisk together flour, baking powder, and salt in a medium bowl; set aside.
In the bowl of a stand mixer fitted with a paddle, beat butter, 1 2⁄3 cups sugar, and vanilla on medium-high speed until pale and fluffy. Alternately add the flour mixture and milk in three batches until just combined, to make a batter.
In a large bowl, whisk together cream of tartar and egg whites (reserve yolks for filling) until soft peaks form; slowly add remaining sugar and continue whisking until stiff peaks form. Add to cake batter and fold until combined.
Divide batter between prepared cake pans and smooth tops; bake until golden brown and a toothpick inserted in the middle of the cakes comes out clean, about 40 minutes.
Let cool for 30 minutes, unmold, and cool completely. Using a long, serrated knife, halve both cakes horizontally to create four layers in all; set aside.
Make the filling:
Whisk together 1 cup sugar and reserved yolks (from cake recipe, above) in a 4-qt. saucepan; whisk in bourbon and butter, and heat over medium heat. Bring to a simmer, whisking constantly, and cook until mixture thickens to the consistency of loose pudding, about 2 minutes.Remove from heat; let cool completely. Stir in raisins, pecans, coconut, and vanilla; set aside.
Make the icing:
Combine the remaining sugar, corn syrup, salt, and egg whites in the bowl of a stand mixer; place the bowl over a saucepan of simmering water so that the bottom of the bowl does not touch the water. Cook, whisking often, until the sugar dissolves and an instant-read thermometer inserted into the egg whites reads 140°.Place the bowl on the stand mixer fitted with a whisk, and whisk the mixture on medium-high until tripled in volume and stiff peaks form.
Assemble the cake:
While the icing whips, place one cake layer on a cake stand and top with 1⁄3 filling; repeat with remaining cake layers and filling, leaving top layer uncovered. When icing is ready, spread it over the top and sides of the cake until the cake is evenly covered, creating swirls, if you like. Chill before serving.
If y'all have any ideas/requests for future book/recipe pairings, leave them in the comments!