Looking for a recipe from The Magicians to impress your book club? Benjamin is here at the ready with this fantastic chocolate cake that everyone will love – even Karen who never finishes the book.
---
Last month, I covered some hard hitting true crime story reading material, so this month I decided to lighten the mental load and go with what I thought would be some light-hearted young adult/magic/fantasy/pool time fun reading.
I was a little off base with my assumptions.
I picked up The Magicians
 hoping to get a Narnia or Potter fix. Instead, I reopened some high school-based anxiety and just plain old jealousy. Sure, this book takes place at a school of magic but it comes with some great Degrassi-like drama that held my attention nightly.
The Magicians follows awkward Brooklyn-based Quentin as he discovers his gift of magic and sets down roots in the sprawling Hudson River Valley boarding school, Brakebills. While there he meets a rowdy bunch of friends who excel not only in magic but in a living a life of excess. Too much booze, too much sex, and the occasional fighting off of magical evils makes this the boarding school I want to sign up for NOW!
The French-based cuisine, antique furniture, and uniforms don't hurt either. Mix in the multidimensional travel, mention of Harry Winston, and the gay fantasy nerd in me was set.
Adding to the excitement we can expect to see The Magicians brought to the small screen shortly by the SyFy network. And we all know that tv shows hire much older pretty people to play students, so we don't have to feel bad when we drool over the good looking actors playing people half their age.   
The author very briefly touches on the cuisine of choice at Brakebills – of note, the Flourless Chocolate Torte. In honor of Quentin and Brakebills I'm  making Evelyn Sharpe's Chocolate Cake. It's not totally flourless, but for you can simply omit the flour if you're gluten-free.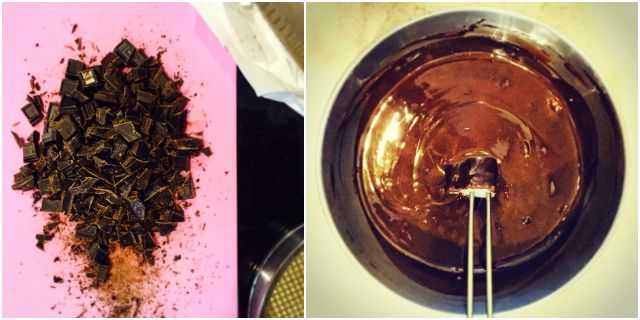 Brakebill's Chocolate Cake
Evelyn Sharpe's 1969 French Chocolate Cake
Ingredients
1 pound semisweet chocolate
10 tablespoons unsalted butter, softened
1 tablespoon unbleached all­ purpose flour
1 tablespoon sugar 4 eggs, separated
Sweetened whipped cream
Instructions
Heat oven to 425 degrees. Line the base of an 8­inch springform pan with parchment paper.
Melt the chocolate gently in the top of a double boiler over hot, not boiling, water. This is a critical step in the preparation and should be done very slowly (or it can be done more speedily in the microwave).
Remove the melted chocolate from the heat and stir in the butter, flour and sugar. Beat the yolks lightly and whisk into the chocolate mixture gradually.
Beat the egg whites until they hold a definite shape but are not dry and fold into the chocolate mixture. Overbeating or underbeating will ruin the cake. The beaten egg whites should be folded smoothly, quickly and easily into the chocolate mixture. Pour into the prepared pan and bake for 15 minutes. Turn off the heat; open the oven door, leaving it ajar, and allow the cake to cool completely in the oven.
The cake is best served a little warm. Decorate with whipped cream. Run a long, thin knife under hot water and then slice the cake into small slivers. It is rich. Serves 10.
Note: I recommend using bittersweet chocolate and salted butter. To the whipped cream, I fold in a heaping tablespoon or two of crème fraîche.
Have you read The Magicians? What'd you think?