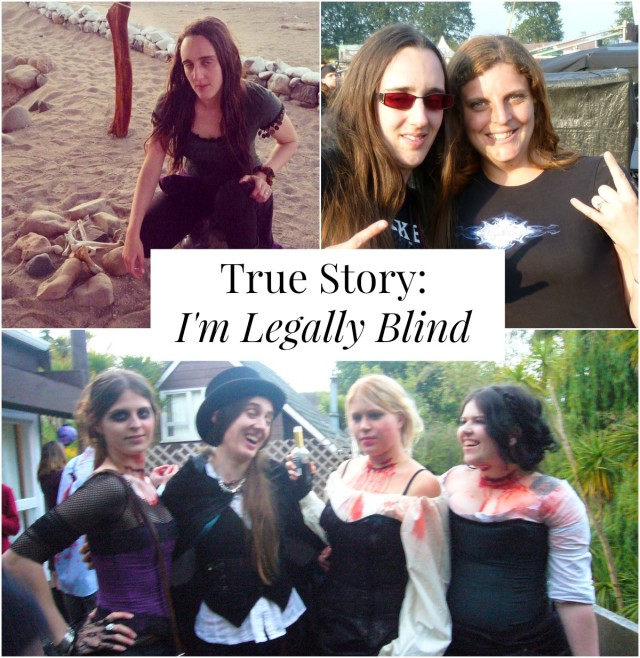 Tell us a bit about yourself!
I'm Steff Green (known on the Internet as Steff Metal). I'm a 29-year-old writer, blogger, wedding celebrant, ex-archaeologist and heavy metal maiden living in Auckland, New Zealand with my cantankerous drummer husband and our cats Levi (aka Chairman Meow) and Socrates.
I just published my debut novel, At War with Satan, an apocalyptic heavy metal satire that's been described as "Dante's Inferno meets Wayne's World." We live on four acres of beautiful countryside and are partway through building our own medieval-inspired castle, complete with towers, a secret passage, battlements, arrow slits and a hobbit hole (yes, really).
For those of us who don't know, what does it mean to be legally blind?
Many people don't realize there are different degrees or sight loss. Some people are totally blind – they can't see anything at all, or sometimes they might register light and dark, but no shapes or substance. Other people might be mildly shortsighted or longsighted and wear glasses for reading or other things. But between those two extremes are a huge variety of different sight conditions.
Legally blind is a term used to distinguish those of us who, while not totally blind, have a vision impairment significant enough to sort of technically count as totally blind (usually when it comes to driving). It's measured by your visual field or distance vision. I qualify as legally blind, which means I can't drive, but am also entitled to cool things like free entry to lots of museums, cheap public transport, and some government grants and scholarships.
My condition is called achromatopsia. It's a rare genetic condition where the eye has no cone cells, or the cone cells don't work. Cone cells transform light into color, so having none means I cannot see colors. I am also extremely light sensitive, and going out during the day means the world looks like a washed-out photograph. I have poor depth perception, am severely short-sighted, and have nystagmus, which means my eyes wobble and blink all the time and I have a VERY hard time making and maintaining eye contact.
Not seeing color is a very hard thing to describe, because color does not carry the same meaning for me as it does for someone who can see it. The best way to describe what I see is to say it is like a black-and-white photograph – it's all shades of grey, but that doesn't mean there isn't a richness and depth to the image.
Add this to basic knowledge of colors that you pick up by reading and listening to people describe things (for instance, I know the grass is green, and that this is a different shade of green to a frog), and you end up with a very unique outlook on the world.
Have you always been legally blind?
My condition is genetic, so I was born with it. Achromatopsia is relatively rare, and can be difficult to diagnose. Although my parents figured out something was wrong in my first year, they didn't actually receive a proper diagnosis till I was about seven. Now they are much better at diagnosing it at a younger age. Around one birth in every 33-50,000 is born with achromatopsia.
You're also totally, 100% color blind. How does your sight affect your day-to-day life?
In a lot of ways, not at all. I am what I am. I've always been like this, so there's never been any kind of adjustment for me. I just have to do what I have to do.
But in terms of "what is my life like compared to someone who can see normally?" that is another story. I cannot legally drive, or ride a bike, which at this stage in my life is the biggest annoyance. For example, I am a wedding celebrant, but it can be a real mission to get me to and from weddings, especially in far-flung locations. Luckily, I have a very understanding husband and wonderful friends who will ferry me about to various engagements.
When cooking dinner, I often need my husband to check the meat to see if it's cooked, especially with chicken, since I can't judge the "pinkness" or the meat or see if the juices run clear. I have to lean in close to see things, so sometimes I get food flung in my face, and apparently it's "terrifying" watching me chop veges.
I am not the best at cleaning the house because I can't see the dirt, and areas with lots of white such as bathrooms just make my head hurt. My husband takes care of most of the cleaning, and I cook the food, and this suits us. I chose the design of our bathroom in our new house, and it's all black, and awesome.
One of the most annoying things is going to cafes, cinemas etc where the menu or options are printed behind the counter, and there's no printed copy I can look at. This means the person with me – usually my long-suffering husband – has to read out all the menu options, one by one. The person behind the counter is just standing there waiting for me to order, and there might be people behind me in line. This makes me feel really self-conscious and I'll often order something I didn't really want just to make things go faster.
I was subjected to years of bullying in primary and high school, partly because of my eyesight and the fact I couldn't play sports, and partly because I was, in general, a really weird kid. There's no easy way to get through this and deal with other people's reactions to your vision, because you can't change it and you can't change them. Many of these years are actually big, blank areas in my memory, which might be my body's way of helping me to move forward instead of dwelling on what has happened in the past. As I get older I get more confident, and I'm able to choose the people I interact with, and apart from some bad workplace discrimination a few years ago, I don't have to deal with this sort of crap much anymore.
It's been interesting working on our land with my husband. There are jobs I can't do, so he'll often ask me to find a tool in our huge, full-to-bursting shed, but I need to look for things with my hands, not my eyes. This takes longer and then he gets frustrated.
Is it immediately obvious to strangers that you're legally blind?
It's obvious that something is wrong, but often not that it's my eyesight. Which is annoying.
When I meet people, they can be put-off by my blinking, squinting, and the fact I might not be making eye contact. It makes people feel uncomfortable, and I pick up on it and it makes me sad. I am happy to talk about my eyesight and explain these things, but sometimes people don't realize that, so they don't want to ask, and the whole thing is awkward and sad.
Children are often scared of me. Maybe that's the black t-shirts, though.
Sometimes I go out to bars or concerts, and bouncers think I am on drugs. Since I'm a metalhead, it's probably a fair assumption, and can take some explaining!
I rarely ask for help, but if help is offered, I will usually accept it. I'm very independent. I moved to a big city all by myself. I can cross the road at the lights without assistance (sometimes people will just grab my arm and drag me across the road, which is actually terrifying. This is why I don't use a cane out and about all the time).
I think a lot of people believe that when someone has an issue with one of their senses (blindness, deafness) their other senses improve to make up for that deficit. Has that been your experience?
There's a huge myth that people with sensory impairments have these "super-powers" in their other senses to make up for it, for example, really heightened hearing or sense of touch. It's not true. You don't magically become "super-ears" just because your eyes are wobbly.
What does happen is that you learn to listen to different things. I have to be very careful crossing the road, because I can't see cars coming, especially in the daylight, but I can hear them from a long way off and can tell if they're turning or continuing straight, slowing down or speeding up.
I can't see facial expressions or read body language, so I'm incredibly sensitive to a person's tone of voice. I'm a steady, though slow, rock-climber, because I feel my way with my hands and feet. I get the same results as everyone else – safely to the other side of the road or to the top of the cliff – just in a different way.
How do you deal with your sight issues?
I wear a set of snazzy red glasses. The red in the lenses acts to polarize light – like trendy welding goggles – so that I can walk around in the sunlight without much of a problem. The lenses are very dark so I usually take them off indoors unless there is a lot of windows or glaring white walls. Another achromat friend turned me on to them, and they are magic.
I work mostly from home, from a little office. I keep the curtains closed all the time, because I can't handle direct sunlight in the room. In our castle, my office is also going to be our library – it's a dark room filled with books and only a single, small window. For some people, it would be gloomy, but for me, it's heaven!
I carry around a pair of opera binoculars in my bag, and I use these to read numbers on approaching buses, menus at fast-food restaurants, etc.
I use high-contrast settings on all computers and devices, and I also use an iPad as an organizer and laptop because the screen is a decent size and it has lots of great tools for low-vision users. I can use Google maps to figure out when to get off the bus. I even have an app that tells me the color of objects!
Will your eyesight change/improve/worsen with age?
My condition is stable – it won't get any better, or any worse.
But what might change – and it's not something I've ever really considered before recently – is technology's ability to give me different experiences. For example, self-driving cars are about 10 years away. I never considered that would happen in my lifetime. An artist with achromatopsia, Neil Harbisson, recently had an "eyeborg" embedded in his skull, which allows him to hear colours as music.
What's your advice to others struggling with sight issues?
I think it's important to define your own boundaries in terms of what you can or can't do. Every person is different, and you need to be the one out there, trying and failing or trying and succeeding. You learn a lot from both experiences. Teachers, parents, friends, family, bosses, experts will all try and tell you what you can, should or can't do, but remember it's not up to them. The human race has done remarkable things, so if you want to work in a bakery or become a professional photographer, it can be done. You just have to figure out how.
Use the resources that are out there to help you. For years I rebelled against the organizations and people that were trying to help me. I wanted to be independent. I wanted to do it all myself. But, accepting help when you need it doesn't make you a failure. It makes you a human.
Never say never. I've driven a car, travelled the world, hung out inside a pyramid, met some of my music heroes, been a museum curator, built a house, got a brown belt in karate, fell in love, dived the Red Sea, published a novel, been on TV, learnt 4 languages, driven a steam locomotive … surprise yourself with what you can achieve.
Hating the cards you've been dealt doesn't change the game – but your strategy does. Because I dealt with bullying growing up, I had to learn to be kind to myself, and that was a long, gradual process with lots of back-peddling. (It's hard to feel confident and happy when you're nine-years-old and you don't have any friends). Sometimes you feel like you're all alone in the world, but if you enjoy having you for company, than that's not such a bad thing.
Plus, the best way to win at cards is to pretend you're losing, and then whack 'em with your four aces when they least expect it.
Thanks so much for sharing your story, Steff! Do you guys have any questions for her? Do any of you have significant sight issues?