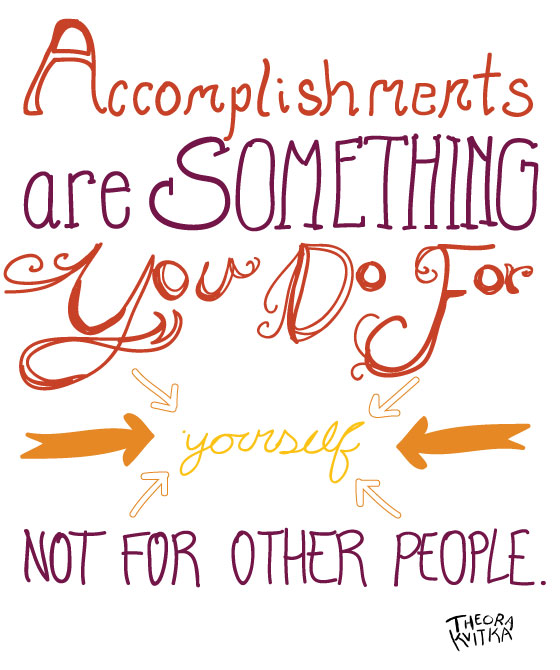 Image created for Yes & Yes by Theora Kvitka
How was your week, guys? I spent most of Monday vulturing over sales on big purchases I've been putting off for months. Area rug! Philips wake up light! A new Roomba!
 A real desk chair!
 So now I have zero dollars, but I'll wake up pleasantly, to a clean home I didn't need to vacuum and enjoy sitting at my desk.
Here's a weirdly obvious online shopping tip: before you go through with any purchase, google '[website name] discount code'. There's almost always a discount code to be had and I usually save 10-25%!
Enough about my robot vacuum. Let's talk about you, internet.
Love it! Revealing portraits of heavily tattooed people who normally cover their whole bodies.
A great post about authenticity and social media.
Social media is not to blame here. It's up to us not to treat it like a game. Treating it like a numbers game will only end in tears. Chasing clicks will leave us hollow. Creating meaningful content that people enjoy will make the difference. Social media can be fantastic if we keep it fcking real.
I love thematic reading. I like to read novels set in places I'm traveling to and books set in the season I'm experiencing. Behold: the best books to read during the Christmas season. I just checked out this
 book from the library!
Can I overcome my addiction to cheese with this vegan recipe for 'cheese' sauce?
Related: did you know you can make vegan meringues with …. the liquid leftover from a can of chickpeas?!!
Before I wrote and blogged full time, I taught ESL to refugees. If you're curious about the application and acceptance process for refugees to come to America, it's explained here, by a young woman who lived it.
Related: Ikea is making refugee shelters.
Ooooh! I love a good behind-the-scenes. What's it really like to be a firefighter?
When Jersey Shore was at its peek, I looooooved it. Snooki is now "done being Snooki."
Are you following the hilarious Twitter feed 'Man Who Has It All'? It turns all that multi-tasking, lifestyle advice that's usually directed at women and directs it at men. So good.
'I'm childless…and thats ok,' Andy, age 36, on making peace with his circumstances. Thanks Andy for that. As long as you're sure.
Working dad? Guilt is your worst enemy. Beat guilt by simplifying your hair, revealing ever younger looking skin & snacking on cashmere.
Helpful! 23 kitchen storage + prep snacks. (I love the tip about how to keep ice cream soft and free of crystals!)
Minimalism of the mind. YES. (And if I can figure out how to do this I will tell you.)
Is there such a thing as being too smart for your own good?
When you tell yourself that only Very Special people can keep you interested, what you're essentially saying is that you yourself have to be Very Special to be acceptable, to deserve love, to deserve a rest. You can't relax in this realm of super-specialness because your head tells you that you're ALWAYS DOING EVERYTHING WRONG. No one else is good enough, and you're not good enough, either
This ring will be my next reward-to-self.
My friend Dr. Aviva Romm wrote an excellent post about why being a 'good girl' can be hazardous to your health. Yes! I've done this so many times!
If you'd like to get the kids in your life interested in travel, Little Passports looks adorable!
And a few Yes & Yes posts you might have missed: How to thrift the best clothes ever, How to make cheap clothes look good (or at least not cheap), Love your ex enough to leave them alone.