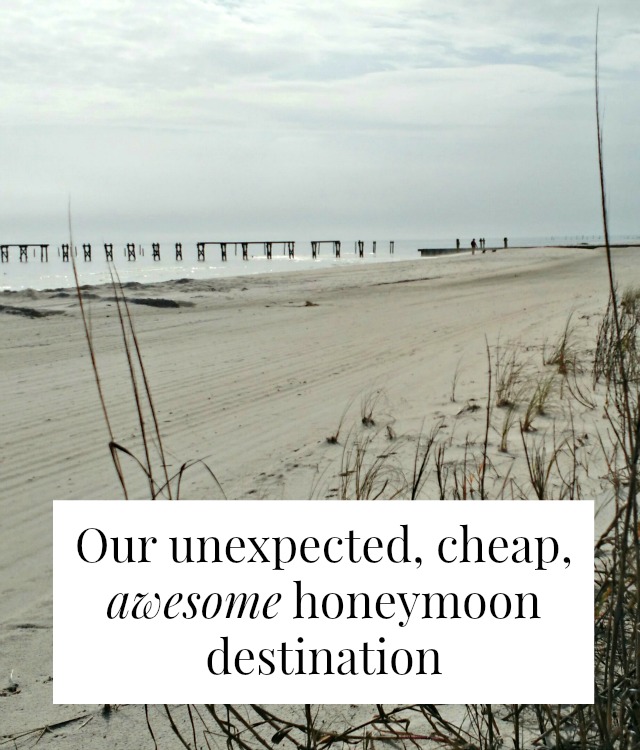 When we told people where we were going for our honeymoon, the response was – almost universally – "Hahahah! Wait. What?" Either that or a polite, strained, very Midwestern "Well. Isn't that … interesting."
To which I would (internally) reply "Yes! That's right! I'm going to pay $114 a night for a beach house and kick around huge, white sand beaches devoid of people and eat my weight in internationally renowned cuisine and YOU CAN GO AHEAD AND MISS ALL THE FUN."
If you've ever gotten married or gone on a honeymoon, you know that people have Ideas About How To Do It Correctly and Opinions About Where One Should Honeymoon. In case you were wondering, 'acceptable' honeymoon destinations are as follows:
1. Hawaii
2. Paris/London/anywhere in Europe, really
3. Tulum
4. Savannah
5. Charleston
All those places are so awesome! I have been to many of them and can heartily recommend them! But that's not where we went.
Here are some photographic clues. Can you guess where we were?

Our super cute beach house! You can rent it here. 
We spent most of our nine-day honeymoon in ….

Mississippi.
And I so, so highly recommend it.
Here's why:
1. The Gulf Coast in the off-season is gorgeous, quiet, and super affordable.
You can fly into New Orleans, have a day or two of French Quarter/Garden District fun, then rent a car and 45 minutes later you're on the beach …all by yourself.
During high season (July – October) it's busier and hotter than most of us Yankees can handle – but still lovely!
2. The people are so nice YOU COULD DIE.
You thought you were a kind, thoughtful, conscientious person but you were wrong. Do you text your guests when the wind picks up to make sure they are okay? Do you drop off homemade goodies so they can experience local delicacies for themselves? No? Fellow Yankees, WE HAVE SO MUCH TO LEARN.
3. The food.
Dur. Let's talk about fried green tomatoes, remoulade, hurricane cocktails,  banana pudding, grits, roasted okra, sweet tea, and everything else ever. If you're a meat-eater, there are even more amazing things for you to eat!
4. The beaches are almost completely empty.
At least, in late January they are! Most mornings, I'd walk along the beach for a mile or two. The most people I ever encountered during my walk? 2.
Of course, you can honeymoon whenever and where ever you want. Do a big, three-week European tour immediately following your wedding if that's what you want! Wait four years till you can afford that cruise to Antarctica! Skip the whole thing and use that money to pay off the rest of your student loans!
But if you want permission from someone on the internet to go somewhere slightly less traditional for your honeymoon, this is it. 😉
Did you take a honeymoon? Where did you go? What's your favorite underappreciated travel destination? I seriously love Wisconsin!
P.S. How to be a happy, laid-back traveler and How to travel with a friend and not kill them.