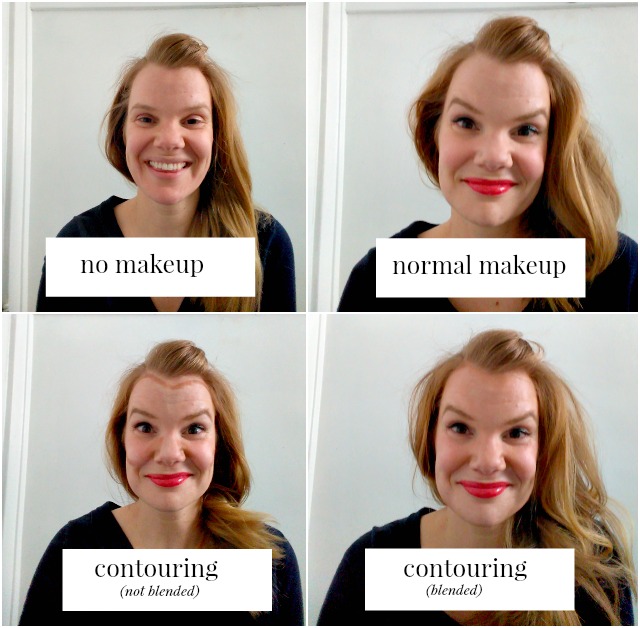 Each year I make a list of new things I want to try; it's part of how I live my life on purpose. Some of these new things are exciting, many are terribly mundane.
While the good Lord/DNA blessed me with some pretty amazing stuff – great hair, big lips, a Scandinavian lack of body hair – cheekbones didn't make the cut. When Amy Schumer said that she had an 'at risk chin' I laaaaaughed because I get it. Turkey neck is coming for me.
So when I added 'contouring' to my New Things list, I did it for three reasons.
1. It's nice to learn new things! I'd like to add another skill to my beautifying tool box!
2. Contouring is a pop culture phenomenon. Do we even know what the Kardashians would look like without it? Is my ladyhood badge going to be revoked if I don't know how to do it?
3. I was quietly hoping I could somehow draw cheekbones and a jawline onto my face because that's a lot easier than dieting and/or plastic surgery – neither of which I'm particularly into. #guac4eva
If you've never heard of contouring, it's the practice of using different colored makeup to accentuate the angles of your face. When done correctly, it can slim noses, emphasize jawlines, or create the illusion of cheekbones where previously none existed.
To me – someone who applies $6 bb cream with her hands – contouring is some Next Level Makeupry. I mean, look at this business: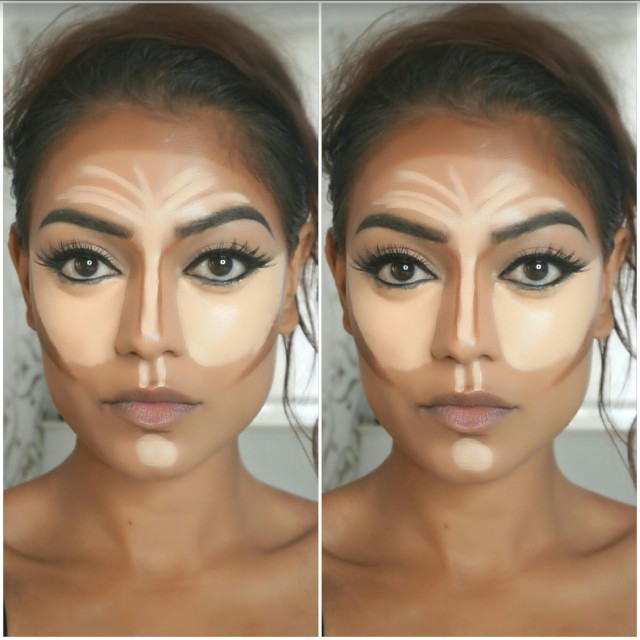 While I am totally committed to trying new things, I am less committed to investing $45 in contouring makeup that I might never use again. A bit of googling suggested this
 little beauty for beginner contour-ers, and what luck! It cost $12, wasn't tested on animals, and was on the shelf at my local Target. Sold.
Let's talk about the five stages of contouring
1. Denial
"This is what my face really looks like without makeup? I THOUGHT I WAS SO MUCH CUTER THAN THIS."
2. Bargaining
"Please, NYX Wonder stick, I swear I'll keep buying you if you can make me look awake. Or least slightly less flu-ish."
3. Confusion
"And then I draw a line down the middle of my nose? Do I rub this into my hairline? When I draw a white line on top of my cheekbone and a dark line under my cheekbone … which way do I blend them? Into each other? Away from each other? Where is my cheekbone I can't find it."
4. Acceptance
"Okay! Well, that doesn't look terrible! It also doesn't really look that different from what I normally do. Hmmm. Mostly it just looks like I got a tan along my hairline."
5. Neglect
(perfectly useful makeup tool + skill gathers dust till I remember it before a fancy party and half-heartedly use it again.)
Maybe if I'd gone all out with super opaque concealer and a multi-color contouring kit, I could have coaxed a more dramatic result out of my face. But honestly? I'm pretty happy with my five-minute makeup routine and my pretty average cheekbones.
But I want to know about you! Have you ever tried contouring? What products do you use?
P.S. If you're curious about my 'normal' makeup, I wear this $6 bb cream, this $6 mascara, and this $2 brow pencil. I will talk your ear off about Revlon Lip Butter (I'm wearing Candy Apple in the above photos) and if I'm feeling ambitious, I'll wear this liquid eyeliner.
photo credit: sabrina // youtube