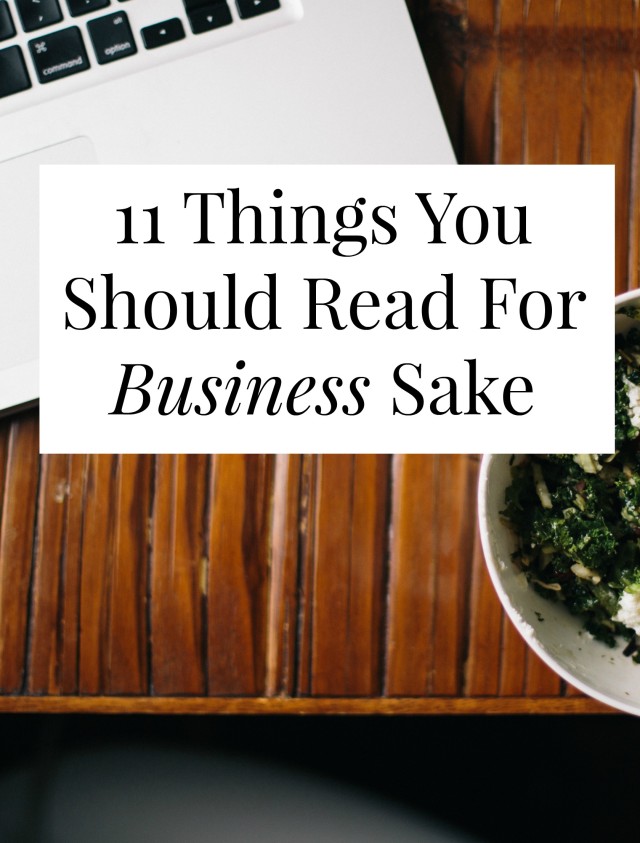 How are things going for you, fellow bloggers/entreprenuers/#girlbosses? I'm in the process of making biiiiiig professional changes which is 90% exciting, 10% terrifying. Mostly this means that I spend a lot of time googling things, trying/failing/trying/failing, and then sending my biz lady friends panicked emails. The usual.
Anyway. I rounded up some of the best, most helpful articles about business, creativity, and social media! Just for you!

Are you making this Pinterest mistake? (I had NO idea this was A Thing!)
And are we screwing up our sales pages, too?
I only verrrrry recently started caring about SEO, but I've seen a significant uptick in traffic since I started using Yoast and keywords. Here's a 3-step process for choosing keywords that'll bring in tons of pageviews.
I really liked this post on overcoming online jealousy – more than the usual suggestions!
Guess what? LOTS OF PEOPLE DON'T CARE ABOUT BLOGS.  I am doing a maniacal-villain-style laugh in my head.
Is that not the most freeing thought ever?
My personal friends are my lifeline. They are literally everything. The fact that they do not know who so-and-so-blogger is and haven't seen how many times that one recipe was pinned and really don't care about who has such-and-such great thing happening for their business right now are things that keep me normal.

Somewhat related: a whole new way to think about your business and measure success.
Let's ask a new set of questions, ones without definitive answers or 6-pillar blueprints.
Questions like:
How much joy can you bring to your life through your business?
How many awesome things can you make?
How much time and money can you give away because you want to, not because you're addicted to people pleasing?
How much can you help people grow, or change, or see themselves in a new light?
How much fun can you possibly have while also earning a remarkable living?
Pretty much everyone I know – self-employed or 9-to-5er – could benefit from reading The Ultimate Guide To Delegation.
An epic, insanely helpful post: what I'd do if I had to start my business all over again in 2016.
Oooof! Every time I track how I *actually* spend my minutes I'm motified. Here's why you need to track your time and know what you're doing.
6 stretches for people who sit at desks all day!
And a few posts you might have missed: How to host your first workshop and How to find your ideal clients (no really, the perfect ones) without going broke.