Looking for a recipe from Eleanor & Park? Want to cook something to honor your love for Rainbow Rowell? Yes! Me, too! Luckily, our boy Ben has us covered.
---
"Don't bite his face, Eleanor told herself. It's disturbing and needy and never happens in situation comedies or movies that end with big kisses."
We've all thought this same thing.
This month I picked up Eleanor and Park by Rainbow Rowell. This book came highly recommended by a friend. I have a whole pile of books on my nightstand that have come highly recommended by friends. However, it's rare that a book stops you in your tracks (literally!) in the dead of winter to gush with said friend about how much this book emotionally wrecked you. Both in a good way and bad.
If you were born before 1979 Eleanor and Park is an amazing time warp that takes you back to a non-ironic use of cassette tapes, cars with bench seating, punk rock, and falling in love without validating it on social media. Born after 1979? This book will give you some insight into what we did pre-Netflix.

On the outside, Eleanor is an awkward red head with no regard for fashion, the opinion of her peers, or her drunk of a step-father. She has a love for books, music, and the neighbor boy called Park.
Park blends in at school. He floats on the fringe of popularity by cashing in on his one-time popular girlfriend in 6th grade. Between MTV, Nintendo, and comic books, Park fills his time not being noticed.
And one fateful day on the bus, Eleanor and Park find themselves thrust into the mess that is love. Over the course of a few months, Eleanor and Park, experience the full spectrum of relationship ups and downs while making you chuckle as you relive all the classic "firsts". First kiss. First dinner with the other family. First time steaming up the windows of an Impala.  
You may be asking why did I say this was good and bad?

This book validates all those awkward feelings and thoughts you had as a teenager in love. It's bad in that you may find yourself comparing your love to that of Eleanor and Park. I'm not going to say they are as great as Romeo and Juliet or Ross and Rachel. But they did make me cry.
And what better way to dry your tears than with Tater Tot Casserole?!?! It just might take you back to that one time after school in 8th grade your mom forced your boyfriend to talk about his back brace at dinner with Grandma.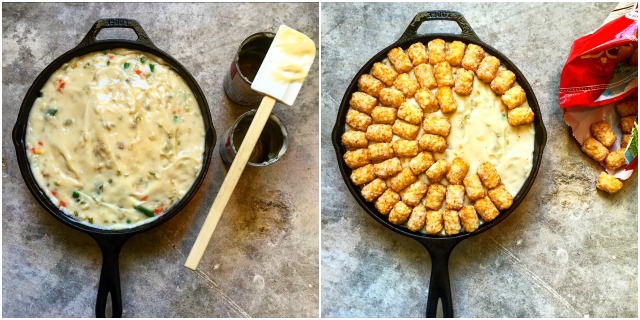 Tater Tot Casserole (or Hotdish depending on your location)
Ingredients
1 lb  lean ground beef
1 medium yellow onion; diced
1 16 oz bag of mixed frozen vegetables
2 10 oz cans of condensed Cream of Celery Soup (do not add water)
1 1-lb bag frozen shredded potato nuggets (Tater Tots)
½ cup shredded cheddar cheese
Salt and Pepper to taste
Directions
Preheat oven to 350 degrees F.
First brown ground beef in saute pan on medium high until fully cooked. Remove from pan with slotted spoon and set aside on plate lined with paper towels to absorb excess grease. Do not clean the pan.
Using same saute pan cook the onion over medium-high heat until it is tender and translucent. Using a slotted spoon remove from pan and place with cooked ground beef on plate.
Spray a 9×13 baking dish with nonstick cooking spray.  Layer in the cooked ground beef and onions. On top of that layer the frozen mixed vegetables. At this point add salt and pepper to taste.

Using a rubber spatula, spread the condensed soup carefully across the layer of vegetables.
On top of the soup, finish layering with frozen shredded potato nuggets.
Bake uncovered for 45 minutes. Sprinkle the cheddar cheese on top of the casserole and continue to  bake for 15 more minutes or until the cheese is melted.
Fellow Midwesterners, I'm sure you have your own take on this recipe. How do you make tater tot casserole? (And international readers, know that you could make this for any of your friends and wow them.) 
P.S. Recipes from To Kill A Mockingbird, The Hunger Games, and Harry Potter.