Oh, what's that you say? A dishy beach read + your new favorite warm weather cocktail? A recipe from Big Little Lies?
TELL ME MORE.
This month I found myself trapped, yes trapped, at Boston's famed Logan airport for two days.
And by trapped I mean I arrived every day at 8 am and left in the evening by 5 pm, as if on first shift and expected home for dinner. For some reason, those two days The Fates did not want me traveling from that wee piece of land. So, naturally I found myself in the airport bookstore.
After much deliberation and multiple text consults to friends, I landed on Big Little Lies by Liane Moriarty. According to some friends, I am very behind the times in that I have not heard of Ms. Moriarty. An Aussie with a few books under her belt Ms. Moriarty takes us on a ride through the seedy side of suburban living along the coast of Australia.
Big Little Lies follows three mothers of primary school children in a small beachside town that is trying to balance the laid back surfer lifestyle with the influx of money and mcmansions. A town where everyone knows everyone. And one wrong move can destroy everything you've tried to build.
Are you hooked yet? Because all it took was about one chapter and I was already forgetting that man in sweatpants who was oddly close and excessively charging his phone in the seat next to me at the airport.
Back to Big Little Lies. The story centers around the tragic unfoldings at a primary school fundraiser. Tensions were high from some potential bullying happening at the school, some real bullying happening behind closed doors, some extramarital activities, and an erotic book club.  
Madeline, Jane, and Celeste have to weed through problems both at home and at their children's school using their wits and friendship to rise above. And the occasional cocktail or muffin served up by the hot local baker/barista. (We all need a hot local baker/barista. ) 
And like many situations in life, this one comes to a head after some serious drinking of fizzy pink drinks. Said drinks are served – of course – by a middle-aged woman dressed as Audrey Hepburn in Breakfast At Tiffany's.  That happens to you, right? Or is it just me?
Anyway, text your friends, tell them to read Big Little Lies by next month and start compiling a menu of cocktail party/book club appetizers.
You can start with this Fizzy Pink Drink I created or be creative with what you have at home! If you create something fun please share!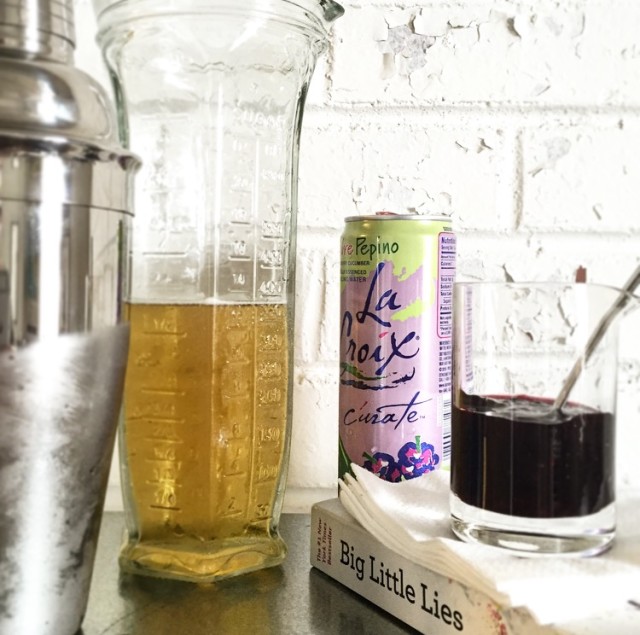 Fizzy Pink Drink inspired by Big Little Lies
Ingredients
1 bottle sweet sparkling wine of choice
1 cup vodka of choice
¼ cup mixed berries jam
1 can of flavored sparkling water of choice
Handful of mint leave
Berries for garnish
Instructions
In a cocktail shaker add ice, a few mint leaves, 1 tablespoon of jam, and vodka. Like all great bartenders give it a good shake over your shoulder. Pour about one shots worth into glass of choice. Top with champagne and a splash of sparkling water.
Notes on this cocktail:
I used an inexpensive sparkling wine I get at Trader Joe's

I skimped on the vodka because I like sparkling wine WAY MORE

Feel free to use any flavor of berry jam you like. I am addicted to

Bonne Mamon

and it's all I have at home.

I also chose a flavored sparking water to give the berry flavor more oomph. You could just as easily use tonic or club soda.

The beauty of this cocktail and many like it is you can make it your own. I suggest leaving the vodka berry mixture out for your guests to use as needed or like I did mix a large batch in a pitcher, leaving the choice of sparkling water up to the drinker!
Enjoy!
This post comes to us via my dear friend/food stylist Benjamin Plante! You can read his hilarious food blog here or drool over his Instagram here.
P.S. recipes from Americanah, The Great Gatsby, and Gone Girl.