This post is brought to you by a space that feels like you (even if it's shared), pillows that don't smell like dog, and Minted.com.
Ten months ago I packed up my little two bedroom apartment and relocated to the other side of the river with my husband, his dog, and (occasionally) his two sons.
Combining households can be emotionally and logistically challenging. It can also be stylistically challenging because WHY CAN'T YOU JUST LET ME PUT 15 THROW PILLOWS ON THE BED. So when Minted offered me a mini shopping spree of sorts, I positively leapt at the chance.
If you're not familiar with Minted, it's online marketplace designed to connect you with independent artists from all over the world. Minted sources its pieces through on-going art competitions, so it introduces you to new, super talented designers and creatives every single day. Pretty great, right?

After ten months of living with three dudes and two pets (and a mini shopping spree at Minted), here's what I've learned:
1. OMG get throw pillows with removable, washable cases
Let's talk about how dogs (even really cute dogs!) smell like Doritos. Let's talk about how teenage boys smell like … teenage boys and how your handsome cyclist husband sometimes smells like he's a cyclist. And it's not just the dog and boys and husband! I like to drink my decaf on the sofa and you'd be surprised by how many times that mug can't quite find my mouth.
The answer here is obvious: cute throw pillows with removable, washable shams. We have this one and I love it. When you can wash a pillow sham you're waaaaaay less likely to yell at the dog because she made everything smell all dog-ish.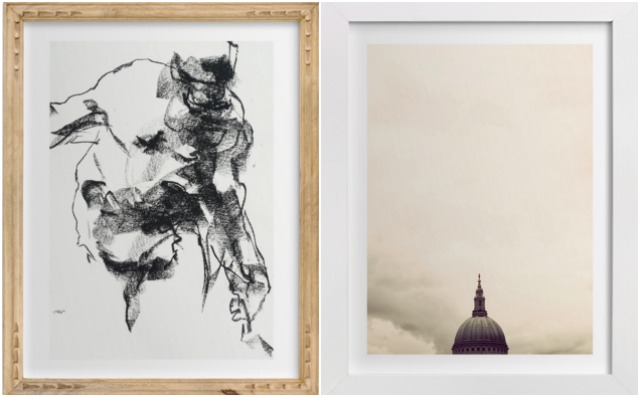 2. Pretty much everyone is okay with grey
I have a tendency to, uh, take over a space.  Left to my own devices, I'd decorate every square inch of our house – including my stepsons' rooms – to fit my taste. WHAT 13-YEAR-OLD BOYS DOESN'T WANT  A PINK CLOSET I ASK YOU.
But that's not fair and it doesn't really make people feel like a space is their own. So rather than filling shared spaces with all my stuff in the colors only I love, I opted for a slightly more muted palette and used a bit more grey. It's classy and it's gender neutral. Anybody would love this photo or this gorgeous drawing.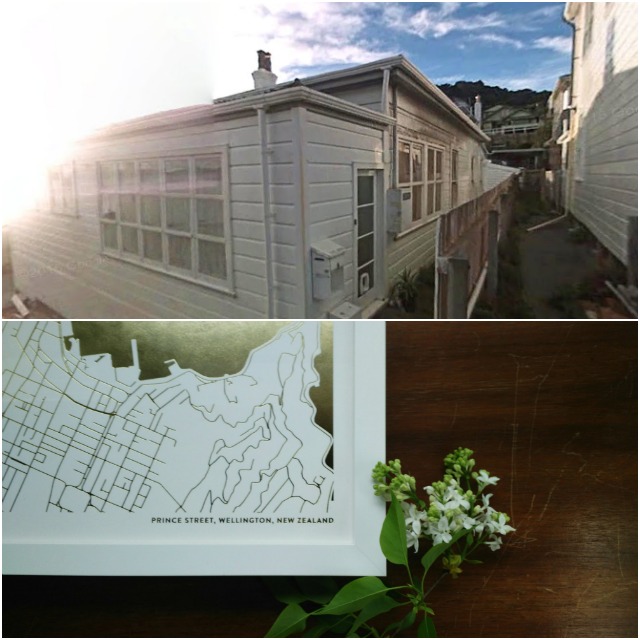 The Prince Street cottage where I lived for two years + Minted's map print of that same neighborhood
3. Hang art that reminds you who you are
Obviously, you had a life before you combined households. Of course, you did amazing things before you became a partner/parent. But it might be weird to have a gallery wall consisting exclusively of photos from trips you took before you met your partner? That said, I also don't want my entire home filled with wedding photos and kids' drawings. Those are lovely but I want a bit of me in my space, you know?
For me, the solution to this was one of Minted's custom map prints. It's a gorgeous print that's meaningful and important to me, but also happens to look nice tucked into a gallery wall of family photos. Win/win!
If you've combined households recently, I'd love to hear your tips! How do you make your space feel inclusive without erasing yourself?
I run two sponsored posts each month. Want to see your stuff here? Check out my ad info here or drop me a line at sarah (at) yesandyes (dot) org and we'll get started!