Looking for a recipe from Binge? Not sure who Tyler Oakley is but really trying to impress your book club? Me, too! Thankfully, our boy Ben has us covered.
---
Remember that time in the Charlotte airport when you felt really old because you had to Google Tyler Oakley? Because he had a best-seller in the airport bookstore? And then you had to try to explain how people just talk on YouTube and they make money with it?
Yeah? Me, too. I remember that, too.
My age puts me in that wonky grey period where Generation X ends (think Heathers, Reality Bites, Eric and Julie from Real World Season One) and Millennials begin (computers in every home!).  
My first phone was corded and my first job was babysitting a now Millennial. I am told that Tyler Oakley and his band of YouTubers are the voice of the Millennial and younger generations. I still watch old episodes of Sesame Street to CTFD. So this whole YouTuber thing stumps me a little?
I've watched a few of his YouTube videos and they are funny, heartfelt, and clearly loved by millions. In his book, he covers his road to YouTube stardom and the misadventures along the way. But can a 27-year-old from Jackson, Michigan really have a story worth a book? Granted, he has used his power for good. But I think of my 27-year-old self and shudder at the idea of having to recap my life at that point.
But let's face it. Tyler Oakley is cute and makes you laugh and sometimes that is all we need in life. We need the friend who's not allowed to drive your car because he's crashed all of his. We need the friend who washes their feet in hotel sinks. We need the friend who will openly talk about their online dating failures to make us feel better about our own. We need more people like Tyler Oakley.
Or we need to just be a little more open to talking. Sex, poop, drugs, food service jobs. We've all been there or want to be there. Tyler's book makes it a little easier to laugh at ourselves.  
Now let me tell you about the time that my second best Twitter friend (with 5.1 million followers) tagged me in a tweet and for one Friday night on my sofa reruns of This Old House got pushed to the bottom of my To Do List.  
I knew book club was coming up and I needed to make something appropriate for Tyler Oakley's Binge. Living in this modern age of Twitter, Snapchat, and Grindr, I thought there must be a way to ask Tyler himself what he would serve at a Binge Book Club.  And this was his response…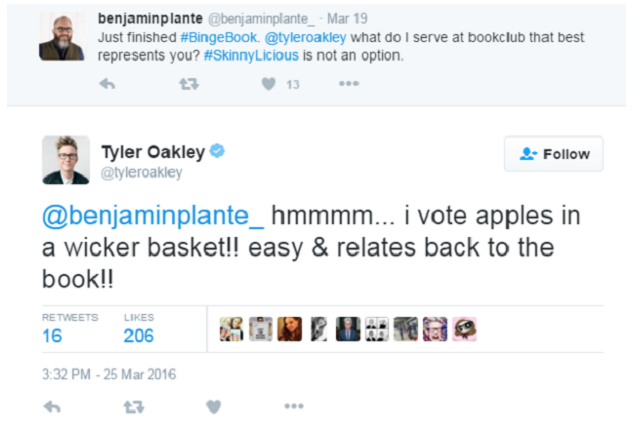 Roast Beef Sandwiches with Homemade Arby's Sauce
Recipe Inspired by WonkyWonderful.com
Ingredients
½ C ketchup
1 T apple cider vinegar
4-6 T water
4-5 drops hot sauce of choice
¼ t onion powder
¼ t garlic powder
2 T brown sugar
¼ t salt
Directions
Combine all ingredients together in small saucepan over medium heat. Bring to simmer and stir occasionally until sugar is melted and sauce is no longer grainy. Simmer longer if you desire a thicker sauce. Use immediately or store in covered in refrigerator for 1-2 weeks.
***please note that I added some crushed red pepper flakes to add a little more kick to the sauce
Serve with deli bought sliced roast beef, onion rolls (recipe found here), horseradish sauce if desired. And naturally a side of apples in a wicker basket because that's what Tyler suggested. Read the book to find out why!
Did you have any idea who Tyler Oakley was before you read this post?!