Looking for a recipe from 'Me Before You'? Love Jojo Moyes and want to win book club? Obviously you do!
This month, Benjamin is reading best-selling novel-turned-movie Me Before You and making delicious tiny scones. (And if you love these, you'll love everything on his Instagram).
---
As an old man in his early to late thirties I find myself in bed rather early most nights in hopes to get up early so I can be one of those people at the gym. And most nights as I lay awake in bed wondering why I am trying to be a gym person I end up watching endless movie trailers on IMDB.

One night about two weeks ago I watched many trailers with one eye open (my bespectacled friends know what I'm talking about). Eventually I stumbled upon the film Me Before You, A film based on the book of the same name by Jojo Moyes.
It stars that not-so-ugly Sam Claflin as a quadriplegic dealing with his transition to life in a chair after a tragic accident. I gathered all that from the two minute trailer, was crying, and subsequently looking for the book version on Amazon. Sleep eventually took over with a mental note to pick up the book at a later date.

About one week later I was at the airport book store holding a copy of Jojo Moyes' Me Before You while a complete stranger standing behind me squealed loudly, "Oh my gawd I couldn't put that down. Seriously I was up all night reading it. Crying my eyes out."  I handed over my cash immediately.

By the time I reached 15,000 feet I was sold on the complicated relationship of our main characters, Louisa Clark and Will Traynor. By the time I was descending I was plotting ways to clear my social calendar the next two days as to guarantee I would be able to cry alone in my hotel room.

Me Before You is set in a tiny English town whose only attraction is a medieval castle. Desperately needing a job after being made redundant from the local coffee shop, The Buttered Bun, Louisa Clark, finds herself as daytime caregiver to Will Traynor, former playboy and all around adventure seeking superman.

Naturally shenanigans ensue as these two total opposites make their way through the awkwardness of new friendships. Louisa learns about life outside of her tiny village while Will learns that maybe life is still worth living.
Early on in the book Louisa discusses the merits of The Buttered Bun and all the characters who come in and out. I couldn't help but think this would be the ideal setting to read this book. With a simple cup of coffee (because they don't do fancy cappuccinos at The Buttered Bun) and a simple scone. I hope you enjoy the scones in moderation. I did not. They are all gone.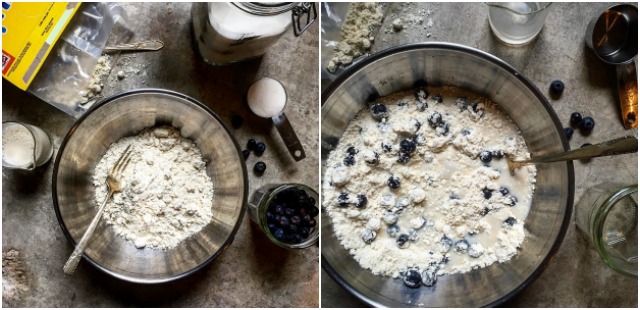 Mini Blueberry Scones
Ingredients
2 cups biscuit mix
¼ cup sugar
½ cup milk
1 cup fresh blueberries
Decorative Sugar (optional)
Instructions:
Preheat oven to 375F and prepare a baking sheet with by lightly greasing with pan spray or with parchment paper. Set aside.
In medium bowl combine biscuit mix, sugar, and blueberries. Gently mix in milk with large spoon.
On floured surface pat down dough until you have a 7" square with uniform thickness.
Cut dough into four squares (3 ½" each). Then cut dough diagonally in both directions, making 16 triangles.
Arrange mini scones on prepared baking sheet and bake in upper third of oven until browned on top. About 8-10 minutes.
Have you read Me Before You? Have you seen the movie yet? Which one's better?!
P.S. Recipes from Wild, Fried Green Tomatoes, and Anne of Green Gables!