Interested in a budget travel tips for Leeds? Of course you are – because traveling on the British pound can get a bit pricey for Americans and Canadians. Today,  Leeds local Amy is sharing her best Leeds budget travel tips: cozy rental cottages for $42 per night, $1.50 pizza slices, free pub quiz nights, and cheap beer!
---
My name is Amy and I moved to Leeds in 2011 to study (and a bit for love, too). Over that time I have totally fallen in love with the city. It's a real gem, and definitely doesn't get the attention (and tourism!) that it deserves. I spend my time scouting out the best restaurants, reading all the books and baking pies. Oh, and blogging about life in Leeds over at Amy Elizabeth.

Cheap Lodging in Leeds
Airbnb is usually cheaper than a hotel – especially if you're traveling with friends or staying for a few nights. Here's a studio apartment in the center of the city for £45 a night and here's a two-bedroom house in the suburbs for £48. If you've never used Airbnb before, here's a $40 credit towards your first booking!
There are quite a few budget chain hotels in the city centre which are good in a pinch, although a little soul-less – Premier Inn is the best of the bunch.
If you're travelling with a friend or two, Roomzzz Aparthotel in the city centre is a great option and gives you a little kitchen to play with (check out the Leeds Market for fresh food and a fun experience!). You can also stay in rooms at the University of Leeds – there's usually more availability in the summer whilst the students are away.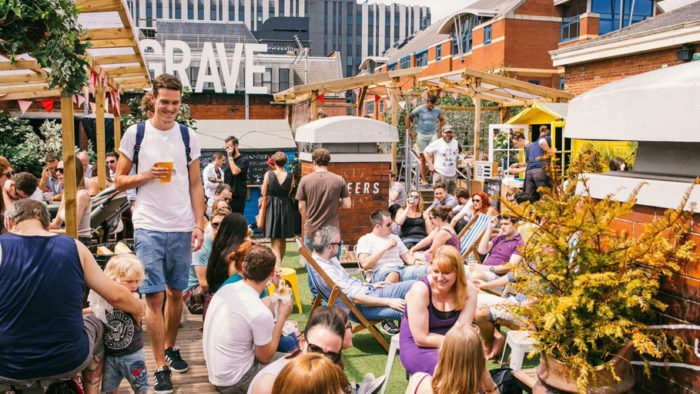 Cheap Food in Leeds
Food is where Leeds really shines! Over the past few years, the foodie scene in Leeds has exploded and you'll find reasonably priced, super delicious eateries all over the city.
Cafe 164 – $4.50 – $7.50 (£3 – £5)
If you're looking for a pit stop during the day, take yourself over to Cafe 164. The coffee is excellent, the staff are wonderful and they have a great selection of cakes to give you a little boost. Many are vegan and/or gluten-free and the apple flapjack is particularly addictive. It's also an indie art gallery with an ever-changing exhibition to browse whilst you sip your flat white…
Belgrave Music Hall & Canteen – $1.50 – $9 (£1 – £6)
Belgrave is home to two permanent residents – Patty Smith's Burgers and Dough Boys Pizza, both of whom have offers you're gonna want to take advantage of. Their amazing burgers will usually set you back £6 ($9), but you can often pick up a second for just £1 more. If you drop by during the day you can also pick up a slice of pizza for as little as £1 ($1.50).
Drop by on the second Saturday of every month and you'll be lucky enough to experience Belgrave Feast where you'll be able to pick up some of the best street food from across the UK for around the £5 ($7.50) mark. Look out for Belgrave Feast regular, Noisette Bakehouse – you don't want to miss those Salted Caramel Brownies!
Belgrave also has the best roof terrace in Leeds. On a sunny day, ask for your drink in a plastic cup and head straight to the top!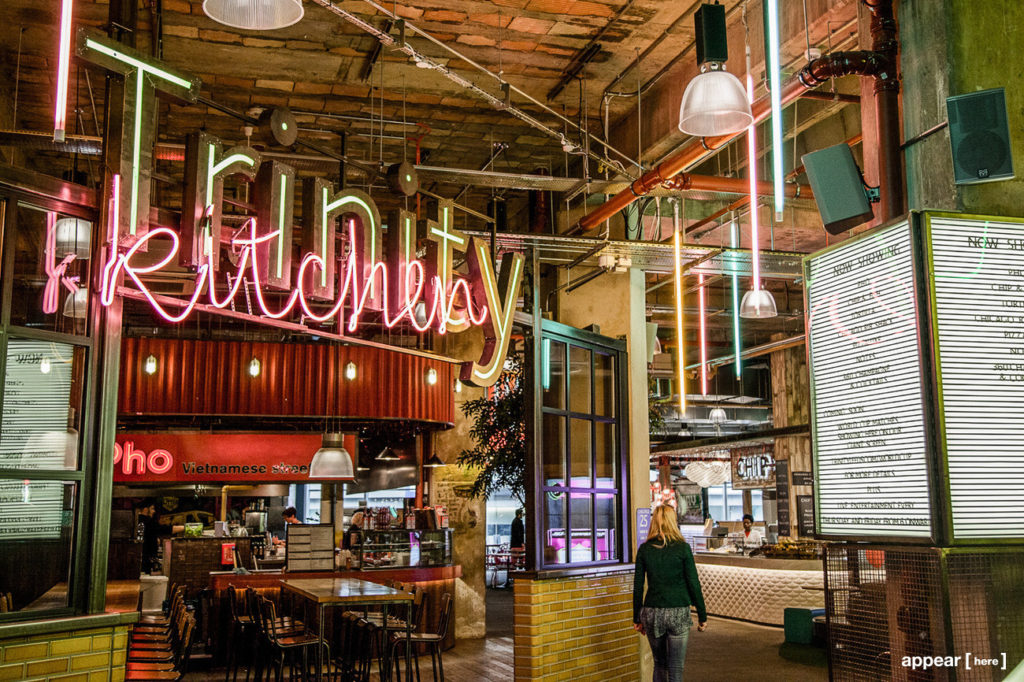 Anything at Trinity Kitchen – $8 – $10 (£5.50 – £7)
Trinity Kitchen is no ordinary food court. Ignore the permanent stands and head straight to the back where a rotating lineup of some of the best street food vans in the UK make their home every month – you'll be able to pick up some excellent grub for around £6-7 ($9-10)
Bundobust – $4 – $10 (£2.50 – £7)
If you're a vegan or vegetarian (or even if you're not), you're going to want to head to Bundobust for some Indian street food and craft beer. Swing by at lunch time and get two of their excellent dishes for just £7 ($10). Don't miss the Bhel Puri.
My Thai – $3 – $10 (£2 – £7)
There's a lot of Thai food to be had in Leeds and a lot of it is delicious and reasonably priced. Nowhere more so than My Thai – a sweet little place at the top of town decked out in fairy lights. Be prepared to queue for a little while – the wait is worth it.
No dish is more than £6.50 ($10) and if you're on a budget you can easily share a large dish and a couple of their cheaper starters. The steamed pork dumplings (£2 / $3) are delicious but be careful not to burn your mouth – everything comes out piping hot!
The Pay As You Feel Cafe – Free/Donation or Volunteering Appreciated
This will be the most happy-making meal you have in the city. Run by The Real Junk Food Project, which was set up here in Leeds but has spread its message across the country, the Pay As You Feel Cafe intercepts food that would otherwise ended up as landfill and turns it into delicious, hearty food.
You can make either a financial donation for your meal or trade your skills and time, so you can choose whether this is the most expensive or the cheapest meal of your trip. The cafe serves up a double whammy – cutting food waste and helping feed the community. Total winner.
The Swine That Dines – $7.50  (£5)
Foodies of Leeds rave about this place. By day, The Greedy Pig serves up stellar breakfasts and lunchtime sandwiches – a not-so-greasy greasy spoon, if you will. By night, they open as The Swine That Dines, serving up creative small plate dishes for just £5 ($7.50).
This is nose-to-tail dining, with an ever-changing menu of seasonal produce. If you're willing to be a bit adventurous, then you're guaranteed the best meal of your trip. Oh, and it's BYOB.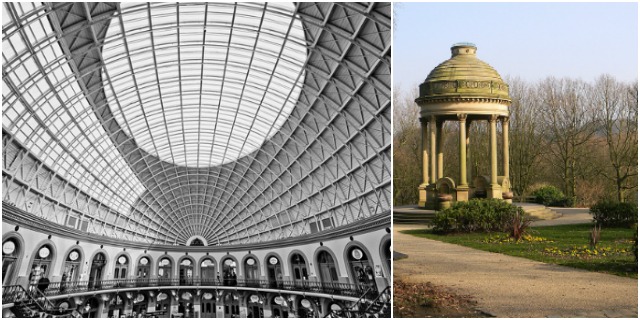 Cheap Activities in Leeds
Take a Trip to Roundhay Park – Free
One of the most beautiful parts of the city, Roundhay Park is the perfect place for a stroll (and a picnic!).
Head over on a Sunday morning to ogle at all of the adorable dogs being walked, and take a little bit of bread to feed the many ducks (and swans!) that populate the lake. Pop to the Roundhay Fox for a warming drink or a pint after your walk – perfect in the winter when they have the fire going!
See the Meerkats at Tropical World – $7.50 (£5)
Whilst you're at Roundhay Park, you should definitely make a trip to Tropical World. Tropical World is home to tropical plants aplenty, lots of beautiful butterflies, all sorts of reptiles and, most importantly, the cutest little troupe of meerkats. Entry is just £5 ($7.50) for adults and free for under 5s.
Window Shopping at the Corn Exchange & Victoria Quarter – Free
The Corn Exchange and the Victoria Quarter are two of the most beautiful places in Leeds – you won't be looking at the shops for staring at the buildings themselves.
The Victoria Quarter is home to most of the designer shops in Leeds, and is totally Instagrammable, whilst the Corn Exchange has a quirky selection of specialist shops, including a camera shop and a vintage clothing shop, and  the most stunning roof you've ever seen. Looking around is free, of course – just try not to fall in love with anything if you're on a budget!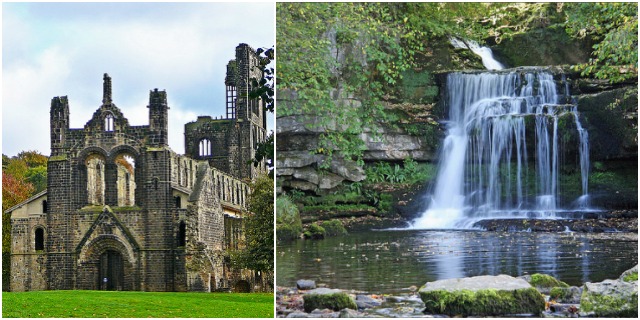 Kirkstall Abbey – Free
History buffs won't want to miss out on this gorgeous ruin. Once a glorious abbey, the ruins of Kirkstall Abbey are perhaps even more beautiful and it's a wonderful place to while away an afternoon (for free!). There are often events on here – from food-markets to live music, fireworks and interactive film nights, all of which are pretty reasonably priced.
Catch a Gig at The Brudenell Social Club – $8 (£6)
The Brudenell is the haven of students throughout the city – a working men's club turned hipster music venue with cheap drinks and a retro appeal. Known for hosting great local and not-so-local bands, you can usually grab a ticket for around £6 ($8).
Pub Quiz at The Hop – Free
Fancy a free meal and a chance to test your knowledge of useless trivia? Get yourself to The Hop – their Tuesday night pub quiz is free to enter and includes a complimentary supper of proper pub grub, which adds up to a pretty cheap night out.
Even if you factor in the local ales you're definitely want to try whilst you're there.
Explore the Yorkshire Countryside – Free
One of the best things about Leeds is just how close it is to the Yorkshire countryside, renowned for its beauty. They don't call it God's Own County for nothing.
Make your way to the Yorkshire Dales National Park or the Peak District National Park for stunning scenery, or keep it a bit more local and explore Ilkley Moor or Haworth – once home to the Bronte sisters and inspiration behind those moors that Heathcliff and Cathy were so fond of.
And that's that! There are so many cheap and fun things to do in Leeds, I couldn't possibly list them all. It's a city for exploring – I know you're gonna love it!
Thanks so much for sharing your insights, Amy! Other British readers – what would you add? 
P.S. 7 travel tools I won't shut up about!