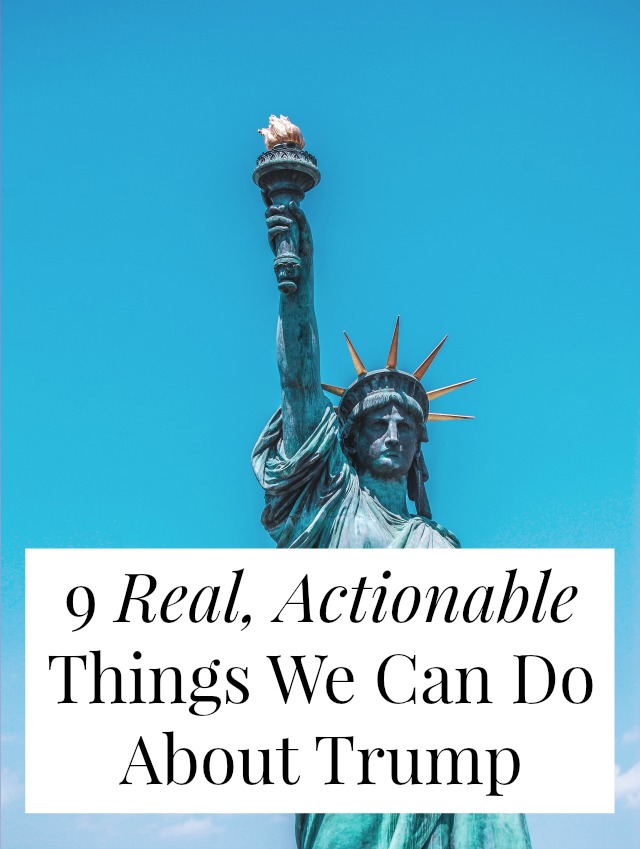 Friends, I self-medicate by making lists and plans.

Last night, as the election results rolled in, I took a shower and sat in bed with my laptop, listing out all the ways we could deal with this new world order.

Here's what I came up with.
9 Real, Actionable Things We Can Do About Trump
Reach out to POC, LGBT, Muslim, immigrant, and refugee friends
Let them know you love them, support them, and do what you can to make them feel safe.
This can be as simple as a text that says "I have your back, dude."

Or you can offer your time and efforts to help them navigate intimidating situations. Do they need moral support at the DMV? A legal proceeding? The doctor? Can you go with them to negotiate the price of a used car or a lease?

As crazy and depressing as it sounds, sometimes the presence of a white, cisgender, middle class person makes a big difference in the outcome of a given situation.
Set up small, monthly donations to organizations that support your causes
Here's a comprehensive list of pro-woman, pro-immigrant, pro-earth, anti-bigotry organizations that need our support. If any of these organizations receive federal funding it's entirely possible they'll be defunded. We can keep them going with our own money, time, and energy.
Talk to people who have lived through horrible political climates
My parents lived through the Vietnam War and Watergate. There were atomic bomb drills in their schools. People literally built bunkers in their backyards. Maybe your grandparents lived through The Great Depression. If your family is new to America, maybe your parents have stories of living with an unstable, unsafe government.
Tens of millions of people in our country have lived through similar things. I know they can teach us something.
Shop at + support businesses owned by immigrants, people of color, and LGBT folks
For all my Googling, I couldn't find state-by-state lists of minority-owned businesses. That being said, I imagine you know which neighborhoods in your city are home to minority-owned businesses.

If you live in the Twin Cities, we're talking about Frogtown, North Minneapolis, and East St. Paul. Check out Lavendar's Yellow Pages for listings of LGBT-friendly businesses or the Minnesota Black Business Directory.

Give these businesses your money, support, and business. When they do a great job, tell your friends and send more business their way.
Vote with your eyeballs
When we support minority-owned businesses, we're voting with our dollars. We can also vote with our media habits. When we watch 'Orange Is The New Black,' we're voting for a place in television for trans actors and when we watch 'Jane The Virgin,' we're voting for jobs for Latino actors and tv shows that address issues like abortion and immigration.

Expand your bubble
Trump was elected on a platform of fear. For those of us who didn't vote for him, America feels terrifying right now. How can we change that? How can we feel safe and connected?

As cheesy as it sounds, we can sit with someone different at lunch and ask them about their weekend. We can attend neighborhood festivals and celebrations we're less familiar with – Somali Independence Day, Dia De Los Muertos. We can strike up friendly conversations at the bus stop. We can put ourselves in situations where we're not surrounded by people who are exactly like us.
Focus on your community
Trump cannot change who heads your PTA group. He can't stop your Neighborhood Watch group from meeting or prevent you from organizing a litter pick up day. He can't change who we vote for in midterm elections.

There is still so much we can do, on a day-to-day, one-square-inch basis. It's time to really, actually think globally and act locally.
Take care of yourself
But you knew this already, right? Turn off the news if you need to. Call someone you love and talk about the good things in your life. Do something that leads to endorphins. Make an appointment with somone who makes you feel better – your masseuse, your pastor or rabbi, your therapist, your life coach.
Find empathy and understanding for the people who voted for Trump
Here, pulled from an article by a teacher, is what I'm currently telling myself:
"Not everyone who voted for Donald Trump did so because they believe the bigoted things that he has said this year. Many of them voted for him because they feel frustrated with the economy, they feel socially left behind, and they are exercising the one power they have. We need to challenge Trump and his supporters to differentiate between their fears and the bigotry catalyzed by those fears."
This article about being white and poor is really insightful. So is this one. As a related sidenote: I was born and raised in the second-poorest county in Minnesota, one that voted for Trump. I know these people and their struggles intimately.
I don't want to spend the next four years being heart broken that half of our country voted for a sexist, racist, xenophobe. I want to spend the next four years doing the work to make this right.

How are you doing, friends? If you've got a bullet-proof coping plan please share it in the comments.

P.S. For, like, the sixth time this year: How Stay Optimistic When Everything Is Horrible