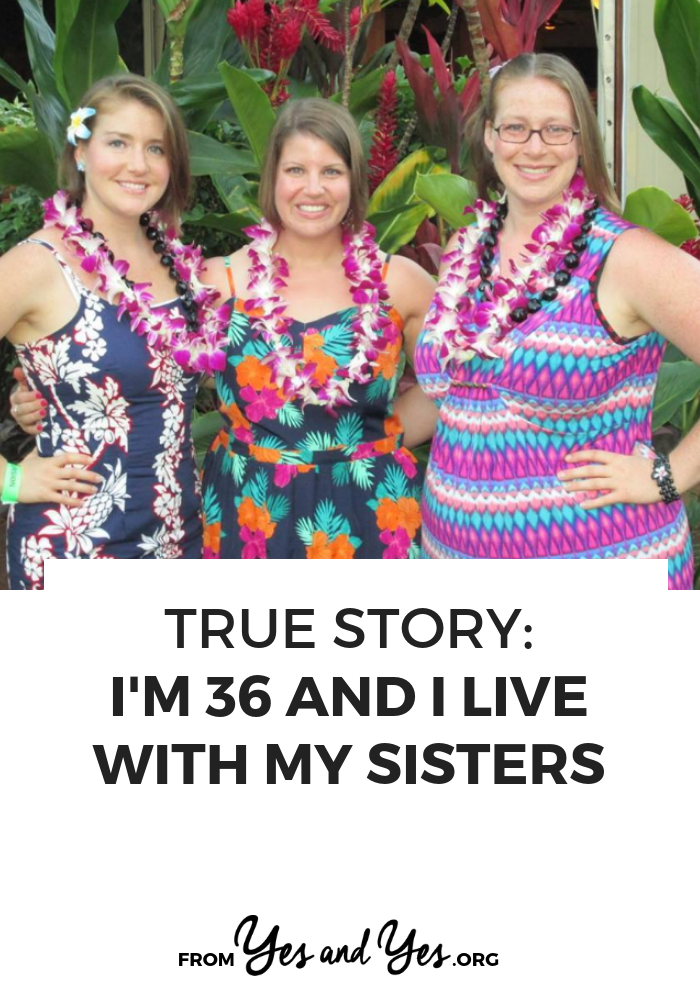 What would it be like to live with your adult sister? Would it be one big sleepover with shared clothes and constant double dates? Or never-ending squabbles and a total lack of boundaries?
Your answer, I imagine, depends on your relationship with your sister. Today, my high school friend Amy tells us about how she's lived with her sisters for 9 and 15 years, respectively.

Tell us a bit about yourself!
Hi! My name is Amy and I am 36 years old. I work as an Administrative Assistant at 3M and love to sing, dance, watch movies, and travel. I grew up in Aitkin, MN (graduated with Sarah!) and I currently live on the east side of St. Paul with both of my sisters.

Tell us a bit about your 'roommates'!
My roommates are my older sister Shannon and my younger sister Lisa. We started out with a fourth roommate, but she moved out in 2013 and got married in 2014. She now lives with her husband and infant son in southwestern Twin Cities suburb. We also share two rescue dogs, Naley and Mauer.

How did you and your sisters decide to live together?
I started living with Shannon when I was going into my senior year of college at Bethel in 2001. I couldn't decide who to live with on-campus and when her roommate moved out of the apartment and she offered it to me, I made the easy choice to move in with her.

What's your living space like? Did you guys choose it knowing you'd be living together for a while?
Shannon and I co-own our current house together. We bought it in 2007, just before the housing market fell apart, but we are still glad we bought it when we did.
When we first bought the house, I figured we'd all live there for five years, max. Now it's nine years later and none of us seem to be going anywhere! Our house is 1,700 square feet (give or take), it has four bedrooms, two bathrooms, two living spaces, a kitchen, dining room, walk-out basement, and an attached two-car garage.
The four bedrooms was key, since we all needed our own space to retreat when necessary. Also, two bathrooms is a must when four women are getting ready in the mornings! The two living spaces is also ideal so there is always a place to hang out if needed. When we first moved in, my sisters and our other roommate chose the three bedrooms on the main level.
The fourth bedroom was in the basement (technically the mother-in-law suite, if so desired) and it was a mess! Dark, dingy, weird layout; the other girls saw it and said "No!". I saw the space, had a vision of what it could be and said "YES!" So, they let me have it and it turned out awesomely, if I do say so myself! 😉 Caveat, my downstairs bedroom becomes the guest bedroom when our parents or relatives come to visit.

How do you guys make decor/landscaping/big purchase decisions?
Since Shannon and I co-own the house and Lisa is technically our renter, Shannon and I make the big ticket decisions together. Usually we tackle the Must Repair/Replace items when they happen and pick the Want To Upgrade items if we have any surplus money after tax returns or Christmas/birthday money.
Sidenote: Our grandma, Harriet, was so instrumental in us getting this house. She covered the $10,000 down payment as a gift to her only grandkids. She saw it as a smart investment and without that gesture we would still be languishing in rentals. Thanks Grandma!

How do you divide chores?
When the four of us all moved in to the house together, we held a "family meeting". We talked about ground rules, house rules, and boring but necessary stuff like mortgage payments and chores. Shannon chose to cook dinners since she enjoys cooking and is skilled at it. Our other roommate chose dishes because she grew up without a dishwasher and was happy to use our dishwasher and not wash dishes by hand. Lisa chose garbage and recycling since she is a recycling nerd.
I chose laundry because I don't mind the task and it only comes up once every two weeks. We also take turns making lunches for everyone: on Sunday night, Shannon packs everyone's lunch for Monday. On Monday night, I do the same for Tuesday. On Tuesday night, Lisa packs for Wednesday, etc. It's a little unorthodox, but it works for us.
Prior to this, had you ever lived with roommates? (If so, how is this different?)
Yes, I lived with one roommate my freshman year, five roommates my sophomore year, and three roommates my junior year of college. In the college setting, roommates tend to have more freedom to come and go as you please. If someone happens to be around, you hang out with them. Our situation is different.
We made the conscious decision to operate as a family, not like roommates who operate more like islands, making your own dinner, washing your own dishes, all your stuff on your shelf, etc. In our house, all the food in the fridge is for everyone. We eat dinners together, hang out together, we travel together. We operate more as a family unit.

I think for a lot of us, being around family members reminds us of different, younger versions of ourselves. Like, when we're around a certain family member, all of a sudden we're 14 and insecure – even if we're a usually-confident CEO. Have you or your sisters ever dealt with anything like this? Feeling like you're 'stuck' in a certain version of yourself because you're around people who've known you forever?
Now that we're all in our 30s and have been living with each other for 9-15 years, depending on the sister, we tend to deal less with that now than in the beginning. We do fall into sister roles, though.
Shannon is the oldest and the rule-follower; she tends to fill the homemaker role, making sure the house runs smoothly. Lisa is the youngest and still trying to figure out who she is and who she wants to be. She advocates for fairness throughout the house, as a youngest despises unfairness, especially when it comes to chores!
I am the middle, so I am the fixer, the peacemaker, the comic relief. When the roles work, they are great! But when someone tries to evolve and change their role, that becomes a difficult task as the ecosystem of the house and sisterhood can be challenged.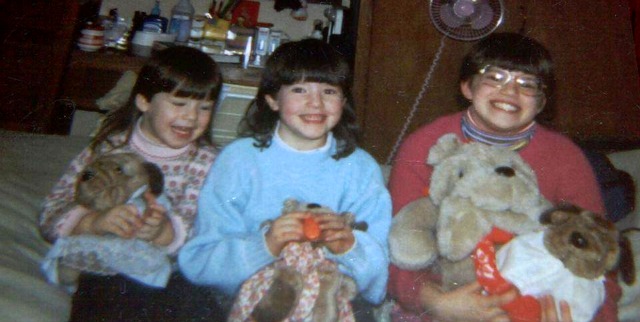 What are the benefits of living with your sisters? The drawbacks?
The benefits of living with my sisters is that I am surrounded by family. I don't have to wonder what my sister is up to these days, I just walk down the hall or ask her at dinner. Also, it can be great living with someone who knows my history. I can tell them an important story without having to delve into my backstory. They know it already because they lived it with me.
Also, we grew up with the same values and traditions, so many of the same things are still important to all of us. I think my parents have it pretty good too, as they only have to travel to one place to see all of their children. We're a one-stop shop!
My mom laments that her status hasn't been changed to grandma yet, but I think she has it pretty lucky that her kids aren't far-flung across the country or has to share us with in-laws during holidays.
There are a few drawbacks to living with people who have known you your whole life. Sometimes, if you try to evolve as a person, the idea of who they know you to be and the box they put you into gets challenged and things can get tense. Also, I can't get away with anything! They know my strengths and my weaknesses, so there aren't many opportunities to skate by. I suppose that can also be a good thing!

Are you guys actively dating? 
No. None of us are dating. I tried dating someone six years ago and things got weird. I wanted to spend all my free time with this guy and it was taking away the time I had previously spent with my sisters. I never knew how much info to share with my sisters about my time spent hanging out with him.
There were tears, misunderstandings, and hurt feelings. I like to think we learned a lot about honesty, communication, and flexibility from that time. Hopefully, if I (or they) ever do date again, things will go a lot smoother on the sister front.

Have you guys talked about what will happen if/when one of you moves out?
Since none of us are dating or thinking about moving out, we haven't had to think about the logistics of this one yet. (We probably should, though!)
Not too long ago, our parents presented us with the offer to help buy someone out if one of us decided to get married or relocate because of a job. Our mom was so worried that being homeowners and living with each other was holding us back from fulfilling our dreams. I'm currently not saying no to anyone on the dating front, but it's nice to know they are willing to help us out if that time ever came.

What have you learned from this that ANY of us could apply to our daily lives?
Yes, communication IS key to every relationship and if you do have snacks, hide them in your room, not in the kitchen pantry (they are fair game there!). The biggest thing I've learned from living with one sister for 15 years and the other sister for nine years is that family is so important.
Not everyone can live with siblings and we hear that a lot. People tell us how lucky we are to get along so well to actually choose to live together and we know that. We do have our issues and our quarrels, but in the end, we have each other's backs, all the time. Regardless of how long I end up living with my sisters, it will always be a time I hold dear, a time in our story to cherish. We were born sisters, but we chose to be friends.

Thanks so much for sharing, Amy! Do you guys have any questions for her? Do any of you with with an adult sibling?
P.S. Two other family-related interviews: True Story: My parents got divorced when I was 6 and got remarried when I was 24 + True Story: I lost both my parents before I turned 30.