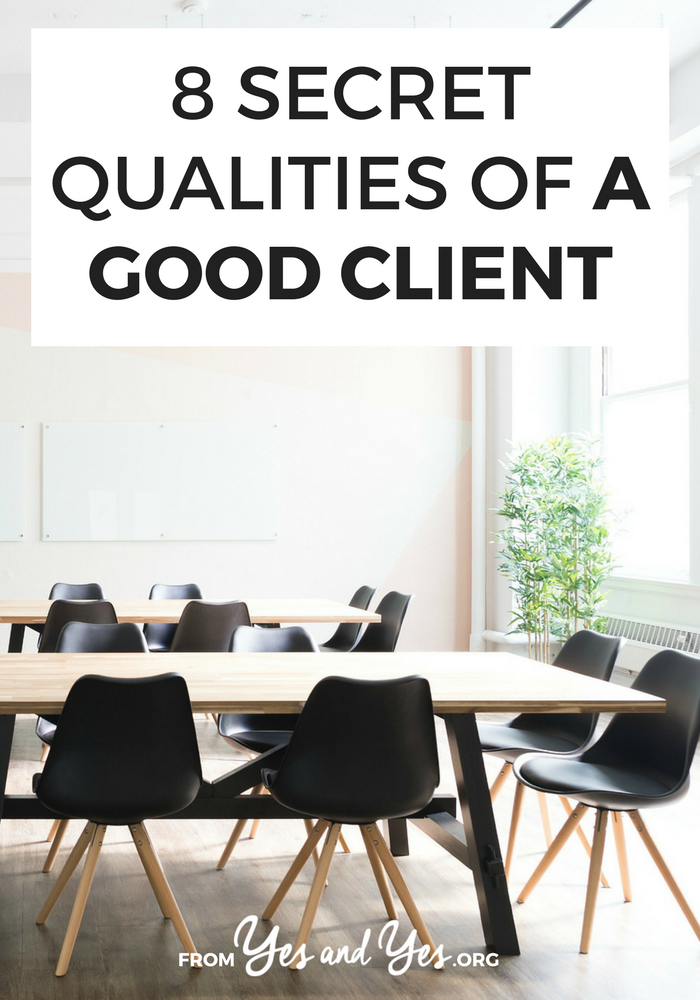 Have you ever found yourself halfway through an email to your graphic designer/web developer/virtual assistant and thought "Wow. I am The Actual Worst."
No? Just me?
You've never found yourself doing the exact things you find annoying? If you've never found yourself in that situation, you are charmer, a scholar, and I tip my hat to you.
If you have found yourself in that position, you'll appreciate this guest post from Tess. Tess helps bosses build better virtual teams to reach their revenue goals and play guilt free. Grab her suuuper helpful guide on where to find VAs to shorten your to-do list!

This is what it sounds like when a contractor raves about a good client:
"I love her! She's so easy to work with and we get along so well."
"When I worked on her graphics I had a great idea for an ecourse she should put together. I shared it with her and she loved it!"
"You totally need to take my client's course. She seriously gets results!"
"One of my clients does exactly what you're asking about. I'd be happy to make an intro!"
So how do you become the good client your contractors rave about and refer business to? It's not hard.
8 Qualities of a good client
Be incredibly clear about what you want
This should be a no-brainer, right? I can't tell you how many people say it, think it, and still don't do it.  Maybe it's so simple bosses forget it? Give good instructions from the moment you start a project, outlining what you need and the results you expect. The last thing you want is to feel is a need to redo the work once it's delivered.
Recognize Brilliance
Acknowledge and recognize good input from the contractors you hire, even when it might not be the way you've thought about it. This is actually where your business can get ahead.  
Go ahead and ask them why they're proposing a different approach or solution. You'll likely get new ideas that will improve your business!  I'm not suggesting you accept bad advice that isn't right for your business. I am suggesting you don't toss out insights and feedback. That's why you hired an expert in the first place, right? 
Respect their time
Respond in a timely manner. Return emails and calls within 2-3 days or drop a quick note explaining why you can't and when you will connect.  There's nothing worse than dead air! Every time a client goes silent, they're making it easier for a contractor to ignore them and their emergencies in the future.  
If you need to get a handle your bulging inbox to keep an eye on what's important set up a good auto-responder to weed out the easy stuff (except make sure you turn off for specific people like your contractors) and a simple folder follow-up system can make you an inbox master.
Give Constructive Feedback
If something goes wrong with a project or your contractor's approach isn't working, have an upfront discussion. Kindly, respectfully share what went wrong, why and how it'll be corrected and prevented.
If this isn't a recurring problem, it's worth it to fix it and it can actually make the relationship stronger. It's easier, cheaper, and less stressful to repair an established business relationship than start a new one! Surely, you make mistakes from time to time, so will your contractors.

Send business their way
Resist the urge to keep all the good stuff to yourself! If you love your contractor, tell your business BFFs about them.  If you go the extra mile for them, they will want to do the same for you.
Pay Promptly
Want to get axed fast? Then don't pay your invoice, pay it late or make your contractor spend extra time following-up with you about your missing payment. Yuck.
Offer a team Discount
Do you sell or offer something your contractors want – like apparel, photography, or coaching services? You could offer the people on your team a discount!
What better way to share your brilliance with your best business support and make referral connections even stronger?  By the way, a team discount obviously doesn't replace paying with cash. It's meant to be a bonus.
Thank them in a meaningful way
This goes beyond the 'thanks' email or phone call. Show your contractor how much it means to you when they've miraculously met short deadlines, last minute emergencies and technical glitches to get your work done on time. Or even just responded to that late night email or call as you pull your hair out hoping for a solution and they brilliantly deliver.  
Remember, just because they make it look easy and seamless, doesn't mean they aren't rearranging their schedules to make it happen for you.  A gift card, some fun and beautiful office products, bouquets of flowers or special food or coffee treats can really show appreciation for doing a stellar job.
Do you have the qualities of a good client your contractors rave about? It doesn't take big budgets and syrupy sweet compliments to have a great relationship with your contractors.
It does take a real dose of being human, showing your genuine appreciation when work is done well, and taking the expertise your contractor offers to excel your business. The happier your contractors are the happier you and your business will be! Click To Tweet
Do you guys have any nightmare clients stories to share? Leave them in the comments – you can be anonymous if you'd like!
P.S. Everything I use + recommend to run my business