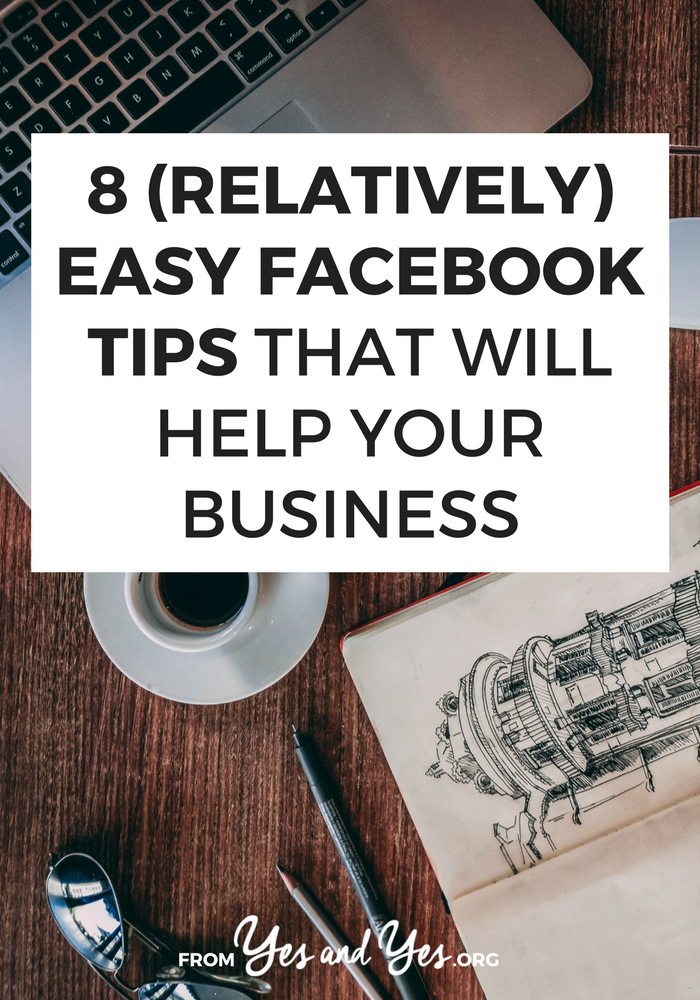 Are 'easy Facebook tips' even A Thing? Like do they exist? Whenever I try to learn something new on Mr. Zuckerberg's platform, the tutorials are 57 steps long and require surrendering the naming rights of my first born.
At least that's how it feeeeeels.
I don't think of myself as a Facebook expert – not by a long shot. But when I do my free site reviews I see a lot of smart, awesome bloggers and business people leaving money on the proverbial Facebook table.
What I mean with that convoluted metaphor is: there are lots of very easy, not-too-techy, non-intimidating ways you can improve your Facebook page!
8 (Relatively) Easy Facebook Tips That Will Help Your Business

1. Add a signup button 
You have a newsletter and/or email list, right? If you don't, here's why you should. Did you know you can add a signup button to your Facebook page so your followers can sign up right there? I track where all my signups come from and a surprising number come from my Facebook page!
You could opt to use a 'shop now' button, a 'learn more' button, or a 'contact us' button. Obviously, only you know which option is right for your business, but I usually encourage my clients to use a 'sign up' button.
It often takes customers at least seven interactions with a brand before they buy. It's pretty unlikely we're going to buy something the first time we visit your Facebook page. But if you can entice us to join your mailing list, you can get in touch with us and tell us about your up-coming sales, launches, and promotions. Then we'll be more likely to buy.
Here's how to add any call-to-action button to your Facebook page.
2. Use your Facebook header photo to highlight said signup button
Business Facebook pages have a lot going on. Posts! Videos! Lots of buttons and photos! Where do I look? Where do I put my attention?
Make it easy for your Facebook followers. Tell them what to do! You can make that signup button a million times more obvious by using your Facebook header photo to draw their attention to it. I just use Picmonkey and their arrow graphic but Canva has piles of pretty Facebook header templates.

3. Schedule content + post regularly (or you'll screw up your algorithm)
If Facebook isn't your favorite platform, it's easy to forget and avoid. But when we go weeks or months without posting, we're actually screwing up the page's algorithm! When we post irregularly, we're essentially telling Facebook "I'm flaky and not to be trusted. I don't take my business seriously, so you don't need to take my content seriously."
Harsh, no? Thankfully, this is easy to avoid. Set aside 20 minutes, once a week, and schedule the following week's content. You can schedule things right in Facebook or use services like Buffer, Hootsuite, or Meet Edgar. Allegedly, the Facebook algorithm gives preference to content scheduled directly through Facebook, so that's something worth considering.
4. Tag people + companies you link to
Unless the people you're linking to are compulsively tracking traffic sources, it's unlikely they'll know you linked to them unless you, uh, tell them. Luckily, Facebook makes that super easy. You can tag people on Facebook the same way you tag them on any social media platform, with @ and their handle.
If you're not sure this is worth the hassle, here I am, sharing a post about roadtrips and tagging Navmii, the GPS app I use when I can't get 4G coverage. Five days later, here's Navmii sharing my post with their Twitter followers. That's an extra 2,500 people who saw my post because I took one second to tag Navmii. Totally worth the one second of effort!
5. Re-promote old content that's timely again
What holidays are coming up? Which yearly events matter to your readers and clients? Tax season? New York Fashion Week? The end of the school year? Is it National X Day or X Awareness Month?
There are so many reasons to do this!
It shows your followers you're thinking of them and looking out for their best interest
You're making use of stuff you've already written so you don't waste valuable deck-hang-out time writing new stuff
If you're using keywords that are trending on Facebook ('tax day' or 'St. Patrick's Day') the Facebook algorithm will pick up on that and show your stuff to more people
As a side note, if you're going to go through the effort of re-promoting old content, spend 15 minutes optimizing and updating it. Here's the method I used to update an old blog post that went so viral it crashed my site three times!

6. Use emojis
If you subscribe to my newsletter, you've probably noticed I'm well and truly addicted to using emoji in my email subject lines. My newsletter open rate also happens to be 15-20% higher than 'industry average.' COINCIDENCE OKAY MAYBE BUT ALSO MAYBE NOT.
Now, I love a good whimsical emoji. A nice curled bicep. A good 'awkward face.' But if you write about Serious Stuff or your content doesn't lend itself to the dancing woman emoji, there are still plenty of symbols you can use!
You can use arrows to highlight links and calls-to-action. You can use an alarm clock or calendar to indicate that time is running out. You can use check marks to highlight your ideas instead of bullet points.
I use Getemoji.com for all my Facebook emoji needs. Simply type what you're looking for in the search bar, then copy and paste the emoji into your Facebook status. Easy peasy!
7. Create videos to promote important content
It's no secret that the Facebook algorithm favors video content. When I create and share a video, it gets exponentially more views and interactions that a text-based update. But let me be honest: I can't be bothered to look video-ready every day, guys.
So here's what I do: I devote one or two days a month to a) getting cute enough for video b) recording videos for the Yes & Yes Facebook page and my Facebook group.
And these videos? They're nothing fancy. They're 15-45 seconds of me telling people about a blog post/free ebook/webinar and then encouraging them to read it/download it/sign up. I tell them where they can do that. I might make a joke and force my cat to make an appearance. That's it! But every time I do it, I see a huge bump in views and traffic. You can do it, too!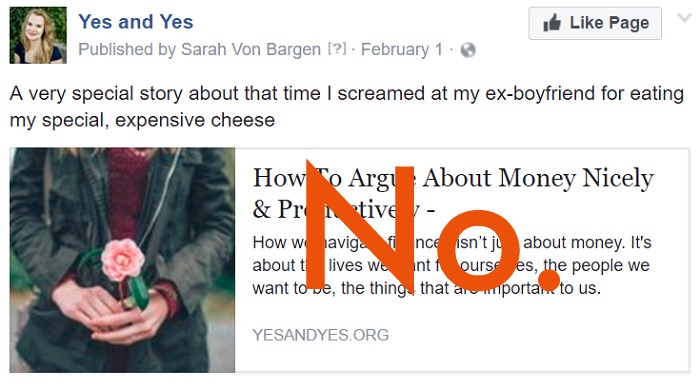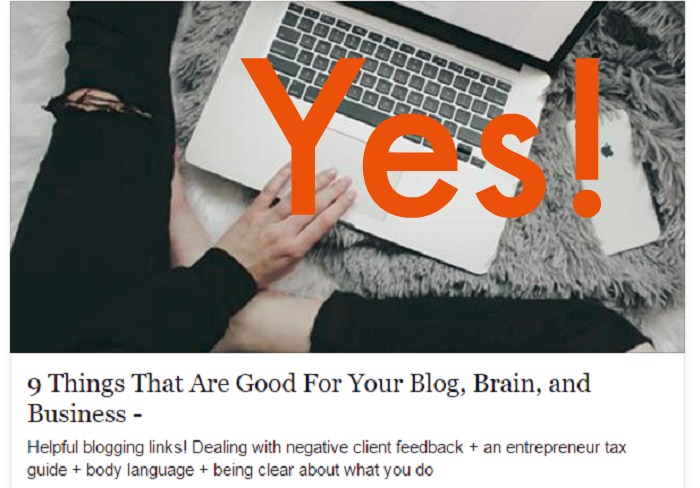 8. Use the 'feature image' and 'snippet' options so your Facebook posts are as appealing as possible. 
If you use Facebook, you've probably seen two types of shared posts. Those with little photos squashed next to some text and those with big, gorgeous photos, majestically floating a top a carefully selected pull quote. I bet you can't guess which one is more effective! (Just kidding. I'm sure you've figured it out, clever human that you are.)
If your posts look more like the former, it's easy to fix. 1. Add a feature image to all your posts (This is also good for SEO!) 2. Download the Yoast plugin (it's free) and edit the 'snippet' section of each blog post. 
Ooof! What's a lot of information for allegedly easy tips, isn't it?! I'm sure you guys have tons of great insights into Facebook. Share your best (doable!) Facebook tips in the comments!
P.S. Everything I use + recommend to run my business