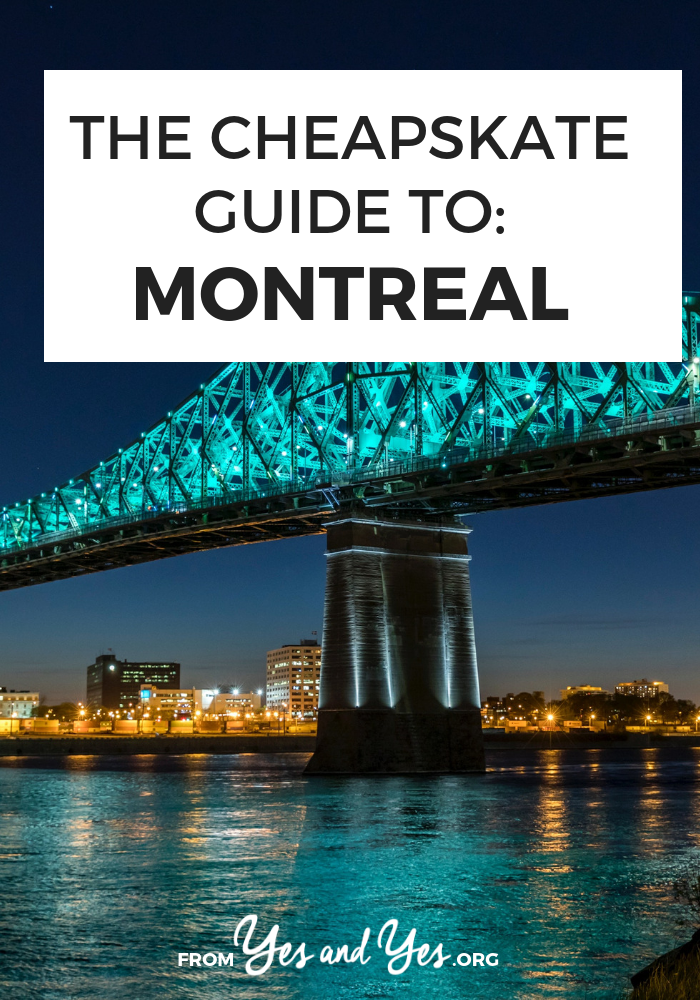 Is it possible to travel cheap in Montreal? Can you get that almost-in-Europe-without-going-to-Europe feeling without dropping a ton of coin? For sure, dude! And if you're American, the exchange rate is verrrrry much in your favor.
Today, Montréalais Mariko tells us where to find $3 sandwiches, free museums, and $30-a-night apartment rentals!
Hi, my name's Mariko and I normally blog about video games and nerd culture over at Gamerwife.com. I moved to Montreal from the west coast eight years ago and it's been true love ever since. Yes, I did have to get used to having different wardrobes for each season, and speaking French definitely makes life easier. That said, Montreal is a great mix of Europe and North America that has a little something for everyone.
Montreal has a reputation for 'kill you weather' (highs of 104 F in the summer, lows of -40 F in the winter) but it's   teeming with energy. There are festivals for everything here and the city overflows with arts and culture. Here are my picks for getting the most out of a trip to Montreal without breaking the bank.
CHEAP PLACES TO STAY IN MONTREAL
AirBnb – As little as $13
As with many large cities, your first and often best bet for affordable accommodations in Montreal will probably be AirBnb. Montreal, and Quebec in general, has a long standing tradition of exceptional hospitality. Here's a with whole studio apartments available for $30 depending on the season, or a private room in the heart of the trendy Plateau neighborhood for a mere $13 a night(!)
Related: If you've never used Airbnb before, here's a $40 credit to use on your first booking!
Dorm Life – $45
Montreal also features several urban universities with dorms open to the public during the summer. Both Concordia and McGill have downtown dorms with single occupancy starting at $45.
CHEAP FOOD IN MONTREAL
Montreal is a veritable foodie's dream with the highest number of restaurants per capita in Canada. Four-star hubs like Au Pied Du Cochon and Joe Beef get most of the media attention, but there is excellent grub to be had everywhere in the city at every price point.
Bahn Mi – $3
Since Quebec is a French speaking province it makes sense that the majority of Montreal's Asian population would hail from former French colony Vietnam. For the true Montreal Bahn Mi experience, you need to go to Marché Hung Phat, a classically unassuming sandwich counter and grocery store right next to the Jean-Talon farmers market. Vua Sandwich is also worth a look if you find yourself in need to cheap eats in the Latin Quarter.
Smoked Meat Sandwich- $9.35
Arguably Montreal's most famous food, the classic smoked meat is sandwich simplicity: rye bread, mustard and up to a pound of perfectly seasoned brisket. A trip to Schwartz's is considered a must for most tourists, although many locals also swear by nearby competitor Main Deli.
Fresh Bagel – $0.85
Montreal has its own bagel culture, which is notable for being chewier and less dense than its New York cousin. Our bagels have a slightly sweet taste added by boiling the dough in honey water. The real war is between St-Viateur and Fairmont, located mere blocks from each other in Mile End. Bonus: both are open 24 hrs so you can get your fresh bagel fix whenever you need one.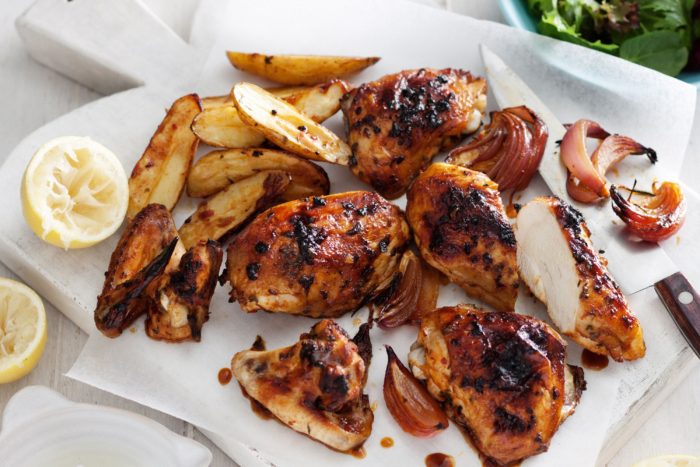 Portuguese Roast Chicken – $9.75
Montrealers love their roast chicken, with local chain St. Hubert considered a national institution. However, true fans of charcoal grilled poultry will direct you to Plateau mainstay Romados, where a chicken sandwich is a mere $5.75 and a half-chicken platter is only $9.75.
BBQ Tofu Pita – $7.95
While the meat eating lumberjack stereotype is still very much alive in Quebec, vegetarian and vegan foodies are far from left out of Montreal's dining scene. The rapidly expanding Panthere Vert chain offers wholesome veggie-based cuisine for surprisingly reasonable prices in both the Plateau and Downtown. They also offer bike delivery if you can't make it there in person.
Poutine
No trip to French Canada is complete without at least sampling our greatest contribution to international cuisine. While the gourmet poutine trend is still in force with options like Foie Gras and Lobster becoming more and more widespread, for the real poutine experience I'd recommend the greasiest diner you can find. And make sure they double fry those fries!
Also worth keeping an eye out for are restaurants with the 'apportez votre vin' designation. This means that you can bring your own booze (typically wine or beer), and save on a gourmet meal since the restaurant doesn't have to carry the expense of stocking a bar.
As well, many high end restaurants in Montreal offer special late-night menus that go into effect after 9pm.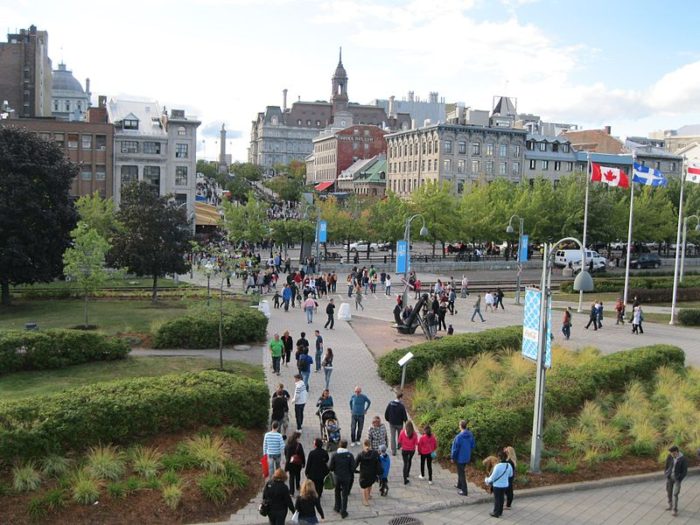 CHEAP THINGS TO DO IN MONTREAL
Also known as "Festival City," there is always something happening in Montreal, regardless of the season or temperature. Open air festivals happen on a near weekly basis, meaning a simple stroll downtown is already likely to be full of totally free entertainment.
Stroll through Old Montreal – Free
The oldest area of Montreal, Old Montreal features stunning architecture and even some remaining structures from the Nouvelle France period of the 17th century. While there you can check out the Pointe-à-Callière museum of archaeology, or take a tour of the historical Notre-Dame Basilica.
Take in a Museum – Pay What You Can / Free
In addition to several free museums, such as McGill's Redpath Museum of natural history (suggested donation of $10), many of the larger museums also offer free or by donation admission on specific days. See the Montreal Museum of Fine Art for free on the last Sunday of every month, or check out the Musée d'art contemporain for half-price on Wednesday evenings or the McCord Museum for free on Wednesday evenings.
Picnic in a Park – Free
Both Parc Lafontaine and Mount Royal are open to the public all year round. In the winter you can even skate for free on a pond at Parc Lafontaine (as long as you bring your own skates), and on Sundays in Mount Royal you can join in the drum circle of the Tam-Tams, or venture further into the woods to catch a glimpse of les guerriers de la montagne (warriors of the mountain) beating each other with foam covered swords and arrows.
Dance in the Streets – Free
Montreal is also a city that loves music with numerous open air concerts and festivals. Wind your way down to the Quartier des spectacles  in the heart of downtown during the Jazz Festival or Francofolies to be serenaded on all sides by amazing artists. Honorable mention also goes to the Just for Laughs festival which brings comedians, even musical ones, from all over the world.
For transportation, your best bet is definitely the Metro, which runs through the heart of the city, with lots of connecting bus lines. As well, there are all manner of taxi services, including the newly launched Téo Taxi, which features an all electric fleet.
I could go on all day about the many qualities of my city, but I'm gonna stop here. Bon voyage!
Thanks so much for sharing your insights, Mariko! I'm sure we have plenty of Canadian readers who could add to this list!
P.S. How to live out of a suitcase – glamorously