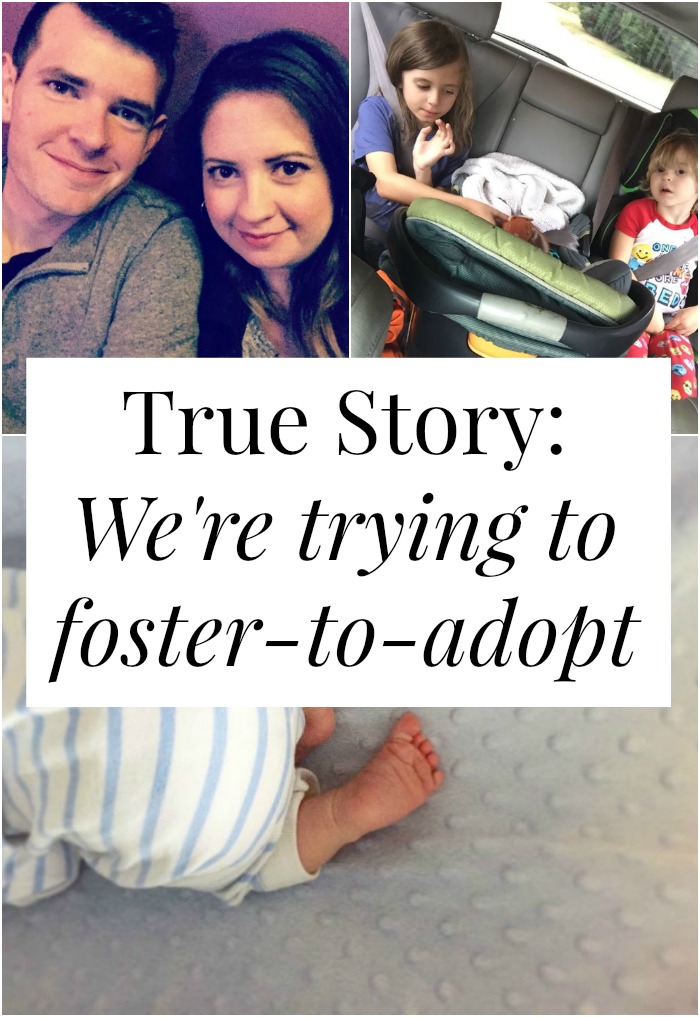 Erin and her husband, Erin's boys with the baby they were fostering
What's it like to foster-to-adopt? How is it different from international adoption? Easier? Harder? A totally different animal? Today my longtime internet friend Erin shares her family's journey of trying to foster-to-adopt
Tell us a bit about yourself! 
My name is Erin Etheridge. I grew up in Los Angeles and Chicago, but married a very un-Southern Southern guy named Noah. We ended up back here in his hometown of Winston-Salem, North Carolina. Over the past ten years, we've turned our little suburban home into a Fun-Size Farm. I'm a freelance writer/editor, a professional-level unpaid reader of books, and a stay-at-home mom to two boys: Ethan, who is 9, and Oliver, who is 4.
You have two biological sons. What interests you about expanding your family through adoption rather than by having another biological child?
Pregnancy was really hard for me. I loved being pregnant—it's such a unique experience—but I had some pretty serious conditions both times (hence the big age gap between kids). The first time, I developed intrahepatic cholestasis of pregnancy, and the second time I had hyperemesis gravidarum and gestational diabetes AND cholestasis of pregnancy. Basically, I was terribly uncomfortable and ill for much of both pregnancies.
We still felt like we wanted more kids, and I've had family members and close friends who were adopted, so it always felt like just another normal way to make a family.
There are lots of ways for people to expand their families through adoption. What appealed to you about fostering-to-adopt?
We decided on foster-to-adopt for a lot of reasons. Ultimately, we just want another child or children to love. There are benefits and drawbacks to every type of adoption. For us, the benefits of foster-to-adopt outweighed other options.
For one thing, the child/children would be from our own community or nearby. In a way, they wouldn't be losing absolutely everything they knew before.
Our community is very diverse and our child-hunger rate is among the highest in the country. All of that translates to more fragile families and families in crisis right here, where we live. So not only would we have the opportunity to grow our family, we'd be contributing to an important and always over-burdened public service.
Finally, foster-to-adopt is financially affordable. It virtually costs nothing additional to actually raising the child, unlike international or private adoptions, which have many expensive fees for a lot of reasons.
How does a family prepare to foster a child?
In our state, families (whether couples or singles) go through an extensive training process. We opted to partner with The Crossnore School and Children's Home, which adds another layer of advocacy and support, but also requires much more training (which I think is a great thing!).
Crossnore uses a sanctuary model, meaning we are a trauma-informed organization. We do a lot of work learning about trauma and how it affects people, and also how to help traumatized kids move forward.
We did a ton of paperwork, background checks, home visits, a fire inspection, and also worked on determining our "criteria" (basically deciding what age range, gender, race/ethnicity, and religion we could comfortably handle as a family). Our home has to be deemed safe, and we have to have a bed and/or crib ready, as well as dedicated drawer and closet space, for any potential kids.
Foster care gets a bad rep for a lot of real reasons, but it's important that the general public realizes how much goes into becoming a foster parent nowadays—which is ultimately a volunteer service.
If we have a child placed with us, we get a financial stipend that is basically just enough to cover food and clothing. We'd be provided certain services for free (since every child in foster care gets Medicaid), and a voucher for daycare if necessary, but this is not a money-making game.
Are you specifically hoping to adopt an infant? Or are you open to older kids?
Originally we thought a child between the ages of 4 and 7 would fit well into our family (either gender, any race). They'd be right in between our biological kids, so the birth order wouldn't change. But once you start fostering, you realize that your criteria helps you make decisions (you NEVER have to say yes to a potential placement) but it's not like picking a kid out of a catalog.
When we got a call about a two-month-old boy, our criteria went out the window. We said yes right away. Now I can see how we could be open to a child of just about any age.
How much does the foster program tell you about a foster child and their background before they place them with you? Have you ever encountered a situation where you were hesitant to accept a placement?
The agency is supposed to tell you everything they know. (DSS, CPS, DCFS, choose your acronym, they're different everywhere, but whoever your social workers are, that's "the agency.") Unfortunately, a lot of times they don't know much. If it's an emergency placement, the circumstances of the child's being taken into custody are likely dramatic and swift.
We've encountered two situations where we were hesitant to accept a placement, and ultimately didn't. In one, the child came from a very large sibling group and the family situation seemed particularly complex, and in the other, the child turned out to have multiple highly special medical needs.
With two young kids at home already, we have to make the decision that will be best for everyone. If we don't feel equipped to handle a placement, we aren't doing anyone any favors by accepting. That being said, I still think about those two kids regularly, and I never even met them.
Recently, you fostered a baby you were hoping to adopt and the baby's grandparents opted to adopt the baby. How did you manage that grief? How do your boys feel about this?
Our placement with the baby was crazy. We were selected for him before he'd even been taken into custody. After a few days, they actually issued an amber alert for him. My heart jumped into my throat when I saw the mug shots of his parents come up on the TV. It was surreal when our cell phones buzzed with the break-through amber alert notification.
The baby was located that night, and we met him at the hospital. He was extremely underweight and had suffered a serious physical injury. But he was beautiful and happy.
We stayed with him in the hospital for three days, then brought him home for four days. We all fell in love with him immediately. Then the other shoe dropped: the agency hadn't been totally forthcoming. The baby had grandparents who initially declined to take him. Then they changed their minds.
I had a day before court to write up everything I knew about the baby, everything we'd been through in the hospital, and basically said we'd love to keep him. (This wasn't required; it was my own desperate action.) Our Crossnore supervisor said the judge and everyone in the court read it (I wasn't there, though I was legally allowed to be; we had a doctor appointment at the same time). But the judge moved him to his grandparents anyway.
I got the call at the appointment, and his social worker asked if I could bring him to the courthouse. I said no. I left, picked up my kids and called my husband so they could all come home and say goodbye, and our supervisor came and picked him up from our house.
He was gone less than two hours after the court ruling.
For the first couple of weeks, the grief was profound. It had begun to feel natural when people referred to me as his mama. He slept in the bassinet my two biological sons had slept in. He wore their little onesies. I had begun to imagine the future of our family with him in it, forever. So I had to grieve not having the baby anymore, but I also had to grieve the future we had lost.
For a month, I kept getting calls from doctors about him, and I had to keep telling people he wasn't with us anymore. My 4-year-old kept asking where the baby was and saying he wanted him, for like, weeks. That was rough. My 9-year-old confided in a classmate and his teacher, and he's not usually a big feelings sharer.
We holed up (but didn't withdraw) and did a lot of self-care: staying in as a family, eating good meals, doing things we enjoyed like watching movies and reading. It just takes time.
What tools/books/websites/resources have helped you navigate this?
Crossnore holds a monthly foster parent support group, and that helps immensely. I can't say enough about the importance of trauma-informed training. It's helped me be a better parent all around. It also helps to have excellent "natural supports"—a few close friends and family members.
Reading about foster care can be insanely depressing. One of the books I found to be most realistic but also hopeful was "Another Place at the Table" by Kathy Harrison.
What have you learned from this that ANY of us could apply to our daily lives?
Everyone could benefit from good mental hygiene. It's important to internalize the reality that most people's behavior toward you isn't personal. Books by Brene Brown and Gretchen Rubin are my go-to favorites, and I've recently started meditating. I like the 15-minute guided meditation called Expanding Love by the Self-Realization Fellowship on YouTube.
On a practical level: babies will always blow out their diapers and kids will always be starving in the most awkward moments. Have a snack (we like Kind granola bars) and, for a baby, a diaper and change of clothes in the car, plus an on-the-go formula pack and an empty bottle.
Finally, the hardest things are the most rewarding. The strongest things are the most flexible. And the Serenity Prayer is for real, y'all.
Thank you so much for sharing your story, Erin. Do you guys have any questions for her?
P.S. Two more sides to the family story: I met my birth mom and I went through the foster care system.