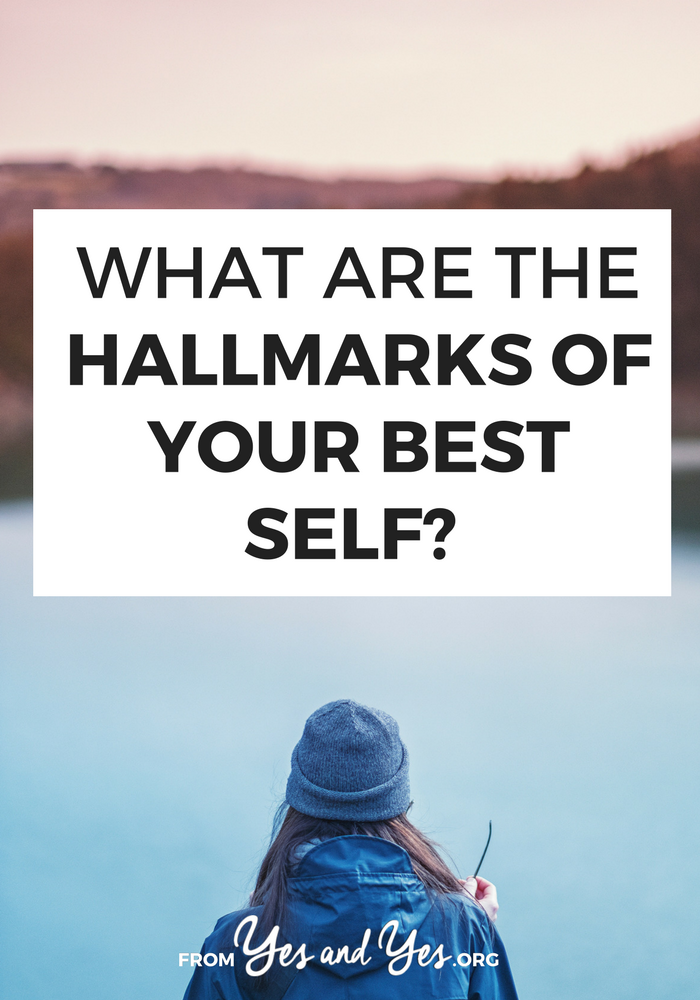 It's an overcast spring day and my friend and I are walking our dogs around Lake Nokomis. We're drinking takeaway coffees and engaging in one of those it's-been-too-long-tell-me-evvvvverything conversations. To be totally honest, I was busy fiddling with Loretta's poop bags when I tuned back into the conversation and heard my friend say:

"… and those are the hallmarks of my Best Self. That's how I knew I'd made the right decision."
I (rudely) put my hand up and said, "Wait. Just a second. The hallmarks of your best self? Tell me more about this."

Friends, I spend a lot of time thinking about this stuff. About what makes us happy. About how to communicate our needs. About how to chase our dreams without hating our lives.

And I've spent exactly zero minutes thinking about what my Best Self looks like.  These 'hallmarks of your best self' – how did my friend know what they were? How did she know which people, places, and experiences brought them out?

Not knowing what your Best Self looks like is like planning a trip without a destination. Click To Tweet
Of course, we can't be our Best Selves all the time. Sometime I just really want to eat rubbish and read snarky celebrity gossip. If I'm virtuous and intentional and productive for too many days in a row I get sick of myself.
5 questions to help you identify your Best Self (so you can be your Best Self more often)

How does your Best Self treat other people?
My Best Self actually listens when you're talking; she's not just waiting for a break in the conversation so she can drop in a hilarious story that makes her look good.

My Best Self intones "I am willing to see this person did their best" when someone holds up the checkout line for three minutes, digging in their bag for coupons.

My Best Self discusses different political ideologies calmly, respectfully. She doesn't raise her voice, pound on the table, or get all red in the face and/or cry. (Uh, still working on this one.)

Is your Best Self inclusive? Patient? Assertive? Name and claim it, my dudes.
How does your Best Self treat you?
My Best Self can sit on a park bench and look at the river, the flowers, the smooshed-face dog walking by without checking her phone or making a list in her mind.

My Best Self doesn't make unkind comments about her thighs or upper arms. She reminds herself how amazing her hair is and how lucky she is to be healthy.

My Best Self puts away the laptop and phone at 9 pm because she knows she needs to wind down if she wants to sleep through the night and not wake up at 3 am, yawning so aggressively she wakes up her husband.

How does your Best Self spend their time?
My Best Self fills her evenings with dinner parties, gardening, walks, home improvement projects, classes. She does not spend, say, three hours eating sour cream mixed with brown sugar watching music videos from 2001.

She spends a few minutes every day calling her senators, sending faxes, and reminding companies that, yes, we see that you're still on Trump's advisory council.

My Best Self notices what makes her happy and makes a conscious decision to fill her time accordingly.
Who helps you be your Best Self?
My very worst qualities are my propensity for judgement and my blood lust for gossip. Some days feel like a constant battle not to tell you the secrets of every human I've ever met and then discuss – in detail – why they shouldn't have made the choices they did.

So if you joyfully jump down into this pit of judgement and gossip, maybe we shouldn't be friends.

But humans who make me more compassionate? More patient? Who encourage me to slow down and put away the to-do list for a minute? These are people I should have in my life.

Sidenote: obviously, nobody else is responsible for making us our Best Selves. We're the only ones who can do that. But if someone actively encourages your worst qualities, you might want to limit your exposure. It's hard enough to control our less-good urges without someone egging us on.
What situations, experiences, or activities help you be your Best Self?
I am my Best Self when I'm teaching – supportive, creative, happy, engaged.

I am my Best Self after a good night's sleep, some quiet time to myself, and a few chapters of whatever novel I'm reading.

I am my Best Self when exploring a new city or neighborhood. I'm present, easily amazed, excited. I become one of those people who makes friendly conversation with strangers. I want to spin around Sound Of Music style and yodel about how we are all part of the family of humanity.
As with anything in life, it's hard to go after what we want if we can't articulate or identify it. Your Best Self is probably waiting for you in a coffee shop right now, hoping you can pick them out of the crowd.
I want to hear from you! Tell us in the comments what your Best Self looks like. (I know that feels awkward. Do it anyway! Even if you have to write it anonymously!)
P.S. We talk about all sorts of stuff like this in my free, private Facebook group Money & Happy. Join us!