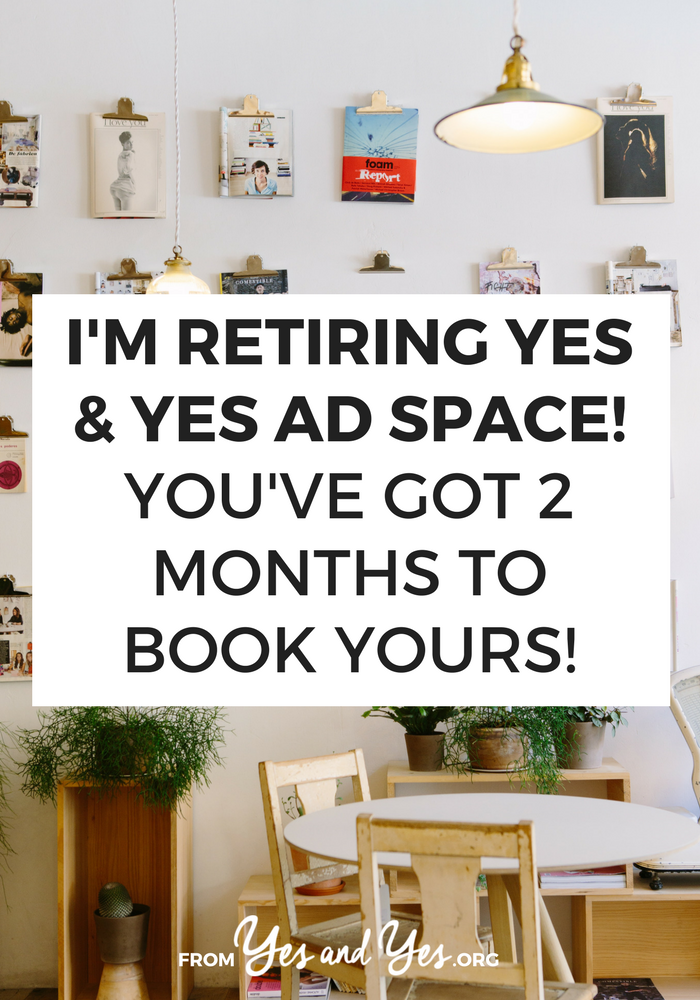 Ch-ch-ch-changes! Big exciting things are happening here at Yes & Yes! I'm working on a Youtube channel! I'm turning the Daily Yes app into a daily email! A re-design!
With that re-design comes the end of my (popular! affordable! incredibly effective!) sponsorship program. 
If I'm being really honest, you're the best I ever had. The ad space I bought on Yes & Yes gave me a $3,000 return on my investment! – Meg Worden
Yes & Yes readers stayed on my site for nearly 4 minutes — double that from any other source, including my own freaking Facebook fans! It's simple, easy, and (dare I say it?) fun to advertise with Yes & Yes. Sarah makes everything crystal clear and painless, then rewards you with the eyes and ears of her delightful readers. It's like a unicorn and a very pragmatic, hardworking squirrel got together and made a squirrelicorn to help your business thrive. – Kristen Kalp
More than any other single investment I make in my business, Yes + Yes is pure gold. The site continues to be one of my top referrers, meaning that ad space here is truly the gift that keeps on giving. I've gained countless subscribers and some dear clients through my ad.  – Christy Tending
February and March are the last months I'll have sponsors. So if you'd like to introduce your products, services, or site to my 13,000+ daily readers – now is the time! 
$90 sponsor spot

(9 left in February, 10 left in March)
$250 sponsor post + sidebar ad

SOLD OUT
If you think your stuff would be a good fit for my readers, drop me a line at sarah@yesandyes.org and I'll let you know! If I don't think we're a good fit, I'll let you know. I respect my readers' time and your marketing dollars.
And a big asterisk: I don't accept sponsors who are selling MLM schemes, diet plans, or companies that use pejorative terms in their branding.
As always, dear readers, thank you for making Yes & Yes part of your online life and I look forward to all sorts of awesome things in 2018!