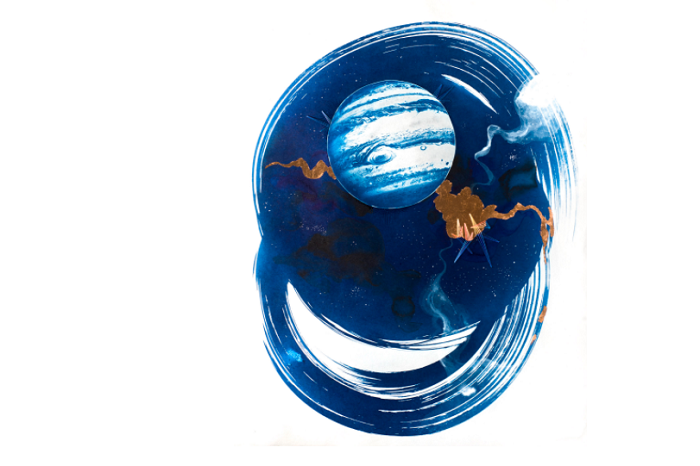 some of Jocelyn's art
While I'm in Costa Rica (you can follow along here), I've asked some of my favorite internet-ers to take over Web Time Wasters!
Hey all! I'm Jocelyn Mathewes, a mixed-media fine artist working out of the Appalachian Mountains of east Tennessee. You can see my studio & how I make my work by joining me on Instagram. I've got some fun things to look at and listen to for you, so here we go!
Really epic graphite drawings that feel like they're from surrealist movies & stir something up inside
Scientists are exploring the neurological link between motherhood & creativity:
"Creativity requires making unusual connections. At its core, Jung said, creativity is original problem solving… In this period of extreme pressure, when mothers are going through massive changes in their bodies, diets, and hormones," Jung hypothesized, "that is when creativity should emerge as a highly adaptive reasoning process."
Time to be in awe of the universe. Play with the music of the planetary spheres with Solar Beat, or listen to the music that lives inside a tree.
You could also watch this hypnotizing model of the moon & its motions in the entire coming year.
And just FYI, Pluto still isn't technically a planet again but we can still show our favorite dwarf planet some love by wearing a t-shirt about how left out it is.
Let's be in awe of human ingenuity for a minute. There's exists a substance so black that you can't even see it? It's called VantaBlack. You can't even take pictures of it—it sucks the light away!
But you can take pictures of other stuff instead. And that's what a whole contingent of people in the Film Shooters Collective do! They still use old-fashioned film cameras to take their pictures. Here's a beautiful set of color film images to tickle your eyes.
Sufjan Stevens asks artists & musicians to think carefully about their work:
"…now it's important for artists and musicians to stop and take stock of what we're saying and doing, and how we're living. Does it measure up? Is it substantial? Does it matter? Is it meaningful? Whether I like it or not, my role is to communicate my beliefs, my convictions, my stories, and my own personal narrative to a listener. There's a responsibility in that mode of communication. I can no longer be frivolous about what I say, and what I sing, and how I speak."
Now onto brain-tickling with really cool interlocking magnets that you can use as locks!
I just love Sakura Pens, especially their moon gel pens for my abstract art work. They're so juicy and delicious. Get inspiration for how to use them at Kellee Wynne Studios' Color Crush Creative blog or Lanecia Rouse Tinsley's beautiful abstract paintings.
Generate your own fictional fantasy maps.
Slavery wasn't that long ago. Benjamin Jancewicz made this provocative infographic to show how little time it's been.
Hope you had a lovely weekend!