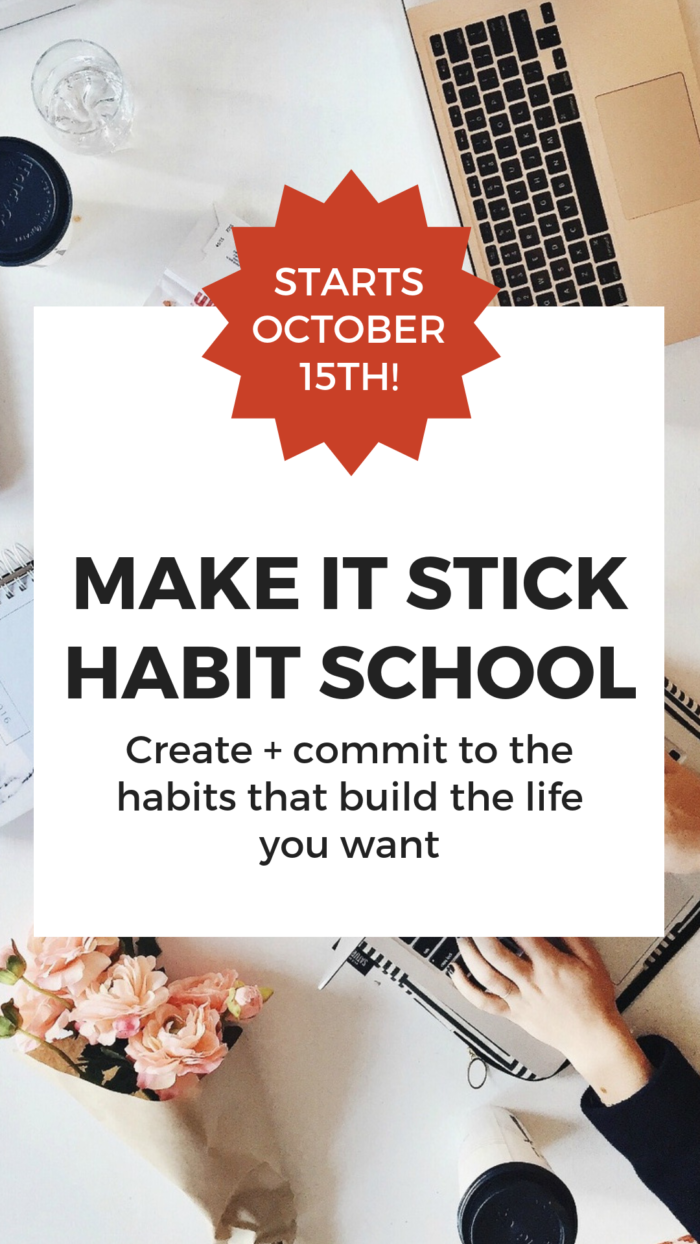 Friend, let me cut to the chase:
The live version of my super popular course Make It Stick Habit School is open for enrollment today!
Why are we running it live? Because self-paced online courses have a 3% completion rate and we can do better than that.

At at the risk of sounding hyperbolic, when you change your habits, you change your life.

But I bet you already know that, don't you?
And I bet you're totally aware of the bad habits that are pushing you further from your goals. But maybe you can't make habit change stick?
When you try to change things on your own it might look like:
drinking smoothies every morning for a few days and then falling off the wagon
resisting Netflix binges for a few weeks, but then you have a bad day and you're back at it
seeing other people who seem to have all figured out; you wonder what they know that you don't
"I loved Habit School! 1. Because it helped me realize why all my other good habits have slid right off me. And 2. because it actually. Made. Good. Habits. STICK! I'm not kidding you. It just worked, and it made me feel amazing.

I've been able to replicate that same success over and over, with little habits that I was so discouraged about not being able to accomplish before. It is a whole new way of looking at how you behave, and it has really and truly helped me make steps towards being the Nora I want to be."   – Nora M.

You look at other people and find yourself thinking:

"How can she go running every morning? Doesn't she ever want to sleep in?"
"He never seems tempted to order a third beer. Why not? Where does he get all that self-control?"
"Every day she unpacks some impressive salad she brought from home and I'm over here with my mediocre $10 deli sandwich. Why can't I be like that?"
Make It Stick Habit School is your bridge from knowing better to DOING better.
You already know what you should be doing. You just need your brain and body listen. This 6-step system and course will help you understand how to make habit change stick – for good.
With Sarah's humor, humility, and science-backed strategies, I haven't missed a workout since I took Habit School.

I know I'll miss a day eventually, but Habit School has also prepared me to lessen the impact of that by planning alternate activities and, most importantly, going easy on myself."    – Bobby S.
Habit School is $97. Here's how we do it + what you get:
A private Facebook group for support + camaraderie

Weekly accountability check-ins

4 live q & as

8 module video course + workbook

Weekly emails to keep you motivated + moving
Because we do all this in real time with lots of support, I limit enrollment to 250 new students. 15 of those seats have already been snapped up by people in my Facebook group! So if you're keen, you might want to grab your seat now!

Class starts October 15th! If you'd like to get your good habits on lock-down before the craziness of the holidays, this is for you.