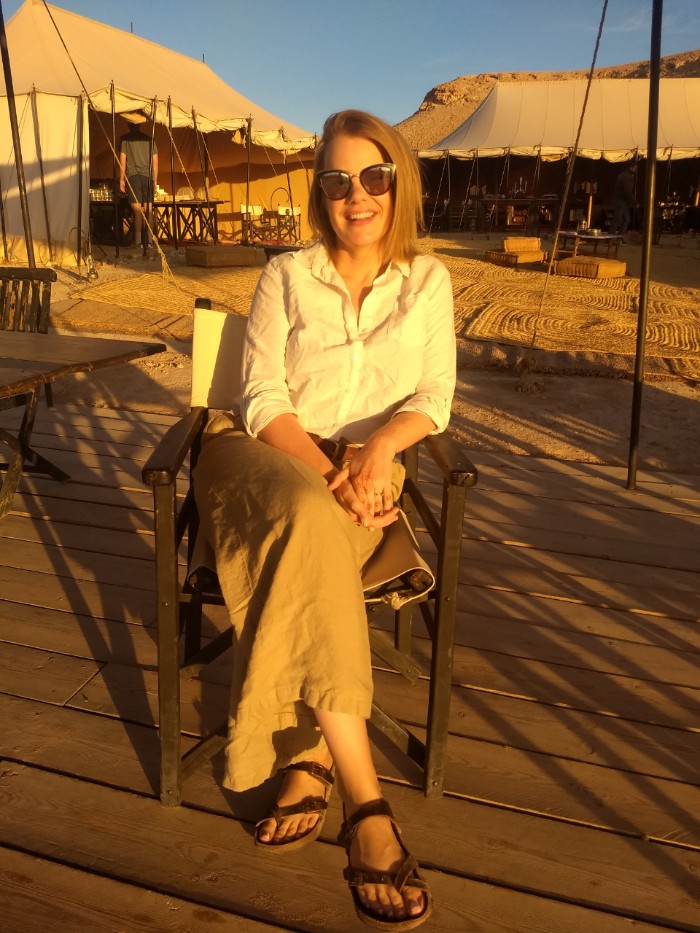 Living my linen dreams at the Scarabeo Camp in the Agafey Desert.
Friends, I've reached that point in my travels where I don't know what day it is – either here in Morocco or back at home in Minneapolis. The sign of a great trip!
I'm typing this from my adorable Airbnb in Casablanca. When I shared photos on Instagram, I got lots of requests for the listing, so here it is and if you've never used Airbnb before, here's a $40 credit towards your first booking.
Links for you!
If you've been following my travel adventures on Instagram Stories and now you're itching to plan a solo trip, here are my four cardinal rules for safe, solo lady travel.
One of the less glamorous aspects of sustainability that is TOTALLY IMPORTANT.
I was on the Pique Podcast talking about spending your time, money, and energy on purpose – listen here. And if you have a podcast? I'd love to be on it! Drop me a line at sarah@yesandyes.org and let's get a date on the calendar.
Several of my fellow thrifters swear by this to remove that 'thrift store smell' – I'm intrigued and welcome your suggestions!
I loved this essay
Olympic athletes who claim the gold are very inspiring. But the person who comes in "last" can be just as inspiring, if not more so.
Showing up is inspiring. Trying is inspiring. That first shaky step after a setback, relapse, injury, heartbreak, or humiliation—that's inspiring. Stumbling and asking for help and then trying again for the second, tenth, or hundredth time—that's inspiring, too. 
There are billions of ways to be a source of inspiration.
Twin Cities friends! On October 29th, I'm leading a workshop at The Coven called Create Your Own Definition Of Success + Build The Habits That Support It. It is two hours and $10.  I'd love to see you there! Click here to buy your ticket.
What a smart, applicable concept! "listen to the data of your own life. Observe everything you're thinking — and feeling — and let it guide you."
It's been 7+ years since I've traveled in a developing country and it's taken me a while to regain my sea legs – remembering how to haggle, that I need to confirm the price of the taxi before I get in, throwing my toilet paper in the trash instead of in the toilet. So I appreciated this flow chart: Did You Have A Good Adventure?
You know about 'love languages', right? Mine are acts of service + gifts. Did you know there are also 'apology languages'?! Off to take the quiz right now!
Things that might be accessible to you if therapy is not.
Hope you have a lovely week – next Sunday I'll be writing you from the U.A.E!