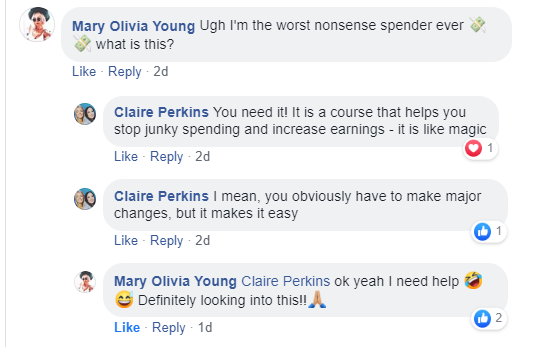 When you see people converting their friends to your course in Facebook comments 💓
How was your week, friends? I spent it getting everything ready for Bank Boost (enrollment closes + class starts at 8 am CST tomorrow! Click here to join us!)
I try really hard to celebrate efforts not just outcomes, so we went away this weekend to La Crosse, WI to celebrate all my launch efforts. We stayed in a cute Airbnb, ate at a supper club called Digger's Sting (!!?), and experienced the goodness of small city thrift stores – like a $4, mint condition London Fog trench coat!
Links for you
A new-to-me IG account that makes me smile every day.
You already read this great piece, right? This Tom Hanks Story Will Help You Feel Less Bad
That does not really ever happen, an actor waiting for me ahead of the appointed time, versus clearly dreading me two hours past it. "I think a long time ago, I learned how important it was to show up a little bit early," Hanks told me. "Be ready to go, you know? And to respect the whole process, and I think that you could respect the whole process even when the other people don't."
Fellow Northern Hemisphere-ians: let's talk winter coping mechanisms. Here are mine:
1. This glowy, cute-enough-to-be-in-the-living room humidifier (I have another giant, un-cute humidifier for our bedroom)
2. Darn Tough Socks – yes, they're expensive. But they literally have a lifetime guarantee!
3. Slippery camisoles under everything – they keep me warmer, let me turn the thermostat down, and lower my dry cleaning bill
THIS is how you do spon con. An inspiration!
Related: The unpleasant truth behind why we "can't" break our bad habits
Salt and vinegar mashed potatoes – should we try this for Thanksgiving?
I'm totally going to make a vegetarian version of this crispy noodle cake.
Yes! I have long been advocating "putting any random green thing you clip from your yard in a vase" and now it seems that The Professionals finally agree with me!
I loved Alex's essay about letting go + luggage claim tickets in Tahiti
"I would really like a luggage tag. Please."
He looked me right in the eyes. The smallest smirk on his face. The tiniest chuckle. His expression said, wordlessly, "Okay, crazy lady. Sure. Fine. I'll get you…your precious luggage tag."
He rummaged inside a drawer that probably hadn't been opened in decades. Found a tattered, stained scrap of paper. Found a pen. Wrote an X on it. No number. No name. Just X. Handed it to me.
My friend Lindsay – interior designer, house flipper, Airbnb owner – just finished her most recent flip house in St. Paul and the before/afters are SO GOOD.
I hope you had a lovely weekend and if you want to join us inside Bank Boost tomorrow, here's how!