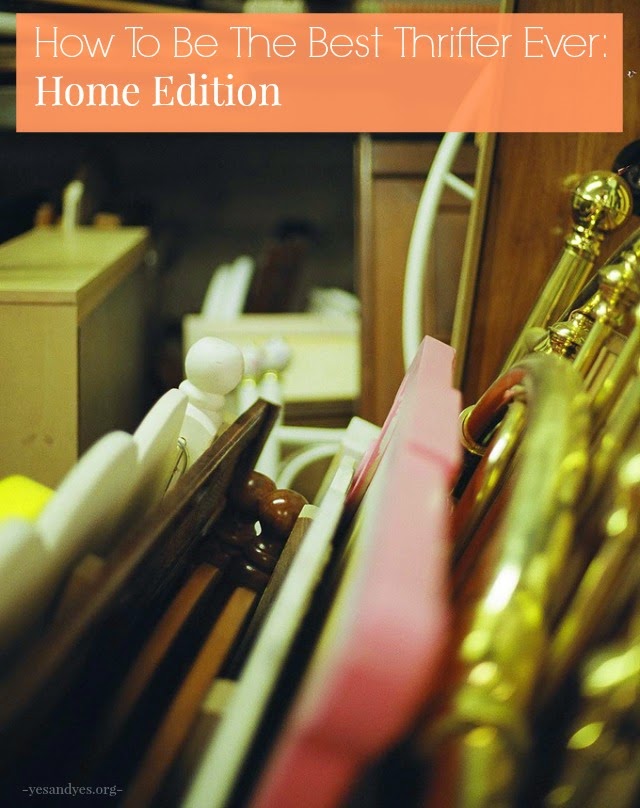 Sooo, you're totally kicking ass with your super cute, unique, wicked cheap wardrobe purchased exclusively from the retailers of Goodwill and Salvation Army, right? Right. Now, how's a girl going to work that thrifting magic on her home?
Know how to make simple repairs to furniture.
This means that you can buy things that a lot of other people will pass up. Tighten the screws, reupholster the seats, repaint it, remove smudges or paint splatters, cover chips in wood, remove labels/stickers … it's all pretty easy and you'll feel wicked accomplished and smug when everyone coos over your $3 coffee table.
Keep a list of the measurements of the space you're trying to fill.
I don't know about you, but I'm not great at remembering how big the space between my stove and counter is. $20 later I've just bought a table that's 4 inches too wide. Lame.
Similarly, know what your car can hold.
Or the number of a friend with a pickup truck. It's a total downer to buy something at a yard sale only to discover you can't close the trunk.
Repurpose!
Because it bears repeating. A beautiful but rickety dining chair can become a bedside table, lovely old books can go on your wall, those sweet blue mason jars can hold your wooden spoons and that incomplete set of billiard balls would look great in a decorative bowl on your coffee table.
If you're looking for even lower prices (and more adventure) try curb-surfing.
Drive past apartment buildings at the end of the month, around college dorms as the school year ends or on large-item trash pick up day. You'll have to be a bit more careful here – you don't want to pick up anything infested with fleas/mold/yuckies … but you can't beat a price of zero!
My most recently thrifted home scores include a 1950's nine drawer dresser with starburst handles ($16!) and a giant Lucite clam shell for $3. What's your best catch?