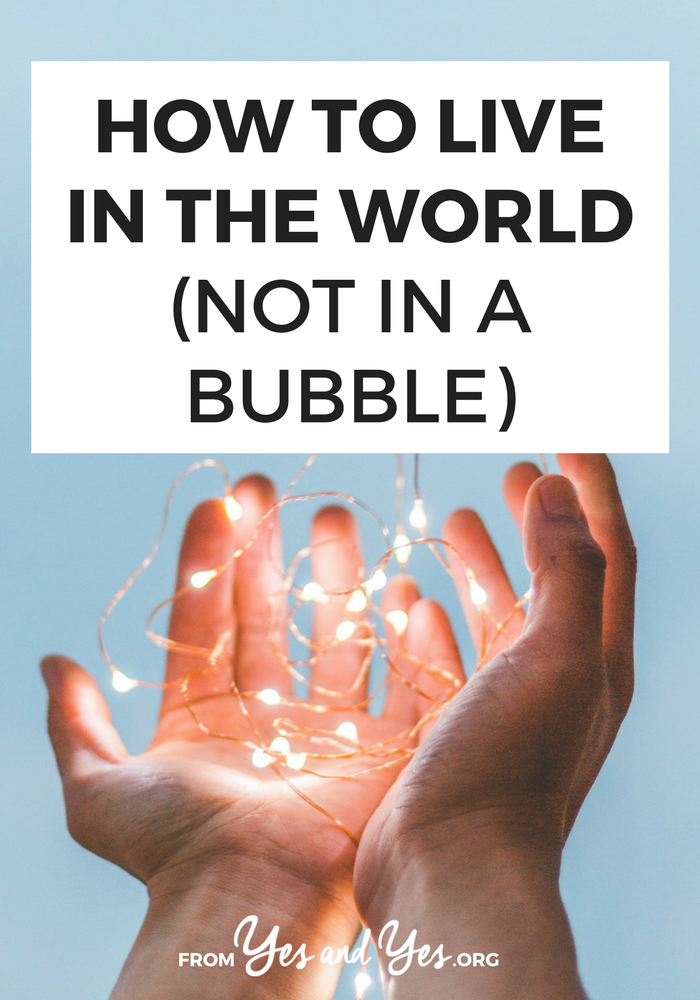 I'm clicking through one of those quizzes people share on Facebook, feeling preemptively smug.
Click. Click. Click. Self-congratulatory back pat.
My results appear on the page and I grimace. Apparently, that self-congratulatory back pat was not earned.
I scored a 35 on the quiz in question: "Do you live in bubble?"  And if I hadn't worked as a teacher ("Have you ever had a job that caused you to be on your feet all day?") or grown up in rural Minnesota ("Have you ever lived for more than a year in a city with fewer than 50,000 people?") I would have scored a 14.
Good lord, it is easy to surround ourselves with people who look, act, and think like us. It's so nice to meet all my college-educated, liberal, feminist friends for coffee and validate the ish out of each other's opinions and life choices! It's so comfortable to drive my Prius to J Selby's and order a $10 Buffalo Soy Curl Wrap with my vegan friends!
But – and I know you know this – we don't grow by surrounding ourselves with people and ideas that don't challenge us.
We don't expand our lives, brains, or hearts by existing in a vacuum or echo chamber.
Click To Tweet
So starting now, I'm trying harder to live in the world, not in my "liberal elite" bubble. If you'd like to join me in exiting your bubble, here are six things I'm doing.
6 ways to

not

live in a bubble