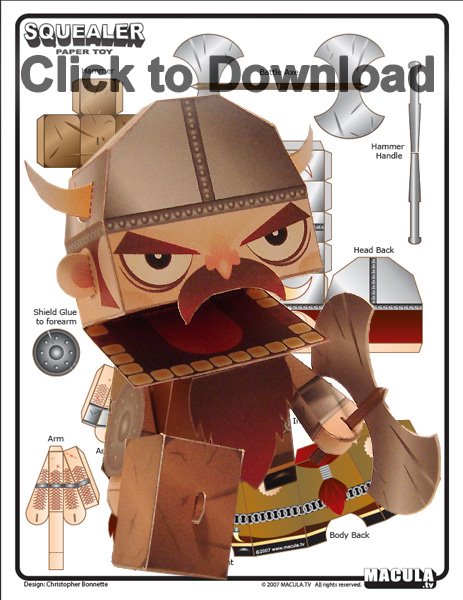 Look at this sweet little viking, all ready and pillage and plunder your paper supply! You can download him and his friends Yeti and Frankenstein for free on
this
awesome website.What happens
when paisley goes bad
?
Illustrator Emilie Boudet makes daily journaling absolutely artistic. Her daily sketches are adorable and irrepressibly French. Here's what her February looked like last year.
Things that are not awesome about the movie-going experience: $7 popcorn, lack of cup holders and sharing arm rests. ElbowWars allows you to engage in the tussling of elbows, video game style.
FAO Schwartz has turned my 6 year old fantasy into a reality – make your own muppets!
There's something deliciously spooky and romantic about abandoned spaces isn't there? Every blessed kid at my high school has fond memories of poking about the creepy, condemned high school in our neighboring town to Riverton. So dangerous! So weird! Such a right of passage! But our photos never looked this good. I really like the abandoned theater in Detroit. You can still see the painted castle backdrop!
I'd like to know why there isn't a School of Life in Minneapolis. It's billed as "an emporium of emotions, a bazaar of bibliotherapy, a convenience store of concepts, a trading post of triumphant philosophies" Yes please!
Live moss is kind of gorgeous isn't it – lush and green and tactile? And it would probably make for cool jewelry, eh?