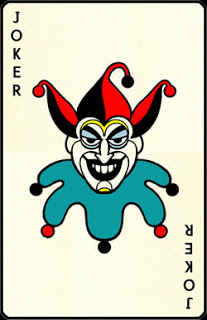 image from
filmschoolrejects
collect the jokers out of every deck that you come across?
rock this little sequined number under your work blazer?
Business on the outside, party on the inside! You can be all coyly buttoned up from 9-5 and then de-blazer once after-work drinks roll around and wow that hottie from marketing.
embrace the 'no hair' shower? Now that it's getting colder and dryer, I am sporting some deeply sexy straw-like hair. Thus! I am huge fan of the 'no hair' shower. It takes all of three minutes, wakes me up, allows me an opportunity to use my sandalwood soap and doesn't dry my hair out. If I'm really ambitious, I rub some gel through my hair, put it into buns and let the steam work its magic. By the time I'm ready for work, I take the buns out and have sexy, messy, wavy hair. With almost no effort! Which, coincidentally, is my favorite amount of effort!
patent your own dinner-party conversation starter? Blah blah "What do you do?" "How do you know _____?" "Have you seen any good movies lately?' blah. How's about "If you could have the power of flight or invisibility which would you choose?" or "What's the longest you've gone without sleeping?" or "What's your least favorite word?" or "What's the best costume you've ever worn?" And look at that! You clever minx, you! You're the life of the party!
send a real, actual piece of mail to someone you love? We're talking about the real thing, now. Proper stationary (maybe even scented?!), hand-written and bonus points for including something silly and sparkly that falls out when they open the envelope.