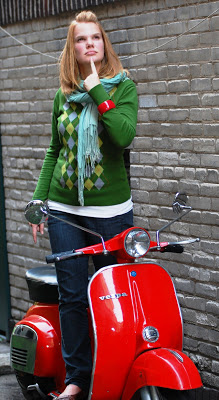 "Hmmm, where shall I scoot to today? Perhaps a golf course or a British pub where my Argyle will be truly appreciated? Yes, I think I could go for
a cuppa
and some biscuits, followed quickly by several pints of cider. Indeed."
As previously noted
, I'm going to refrain from regaling y'all with the fact that nearly everything I own is from Target. Because that's just embarrassing.
However! The jeans you see here? All dark and slim and slightly hipster-y? You will not believe what brand they are:
Did you, like I, secretly covet this brand in 8th grade? While I was relegated to Lees, all the cool kids were rocking their Girbauds, complete with that weird button loop. So finding these for $15 at TJ Maxx was something of a teen dream come true.
Now, if I can just get my hands on a 26 Red t-shirt my life will have come full circle.