This is just one of many interviews with Real Life Style Icons – funny, smart, cool women whose brains we want to pick and closets we want to raid!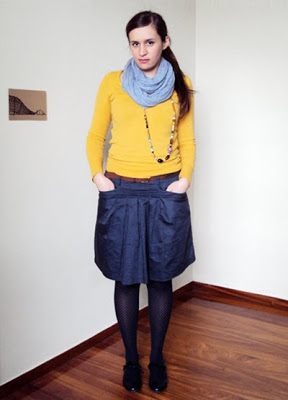 Name: Pinelopi Kapnoula aka Lopi
Age: 27
Location: Athens, Greece
Online haunts: my blog, my twitter and my architectural portfolio (a work in progress)
Can you tell us three reasons that you're awesome?
I am a certified architect, I can make almost anything with my hands and I am an great speller in both Greek and English.
How did you dress as a kid?
I dressed really conservatively and preppy, by my own choice. I grew up seeing my mum wearing all those crazy 80's stuff in bright colors and weird shapes, like baggy carrot pants and jackets with huge shoulders, and all this made me want to be as minimal and plain as possible. Then, during my teens I started wearing baggy hip hop pants, but still kept my style fairly minimal.
When did you become interested in fashion?
I think I was always interested in it. My favorite game was dressing up my Barbie, undressing it, and then dressing it again with a different outfit. This could go on for hours. And I sewed clothes for her too! I also remember once when I was 8, I had to get new clothes before school started.
After many failed attempts to shop for me, my mum just left me in the kids clothes shop (I grew up in a small Greek island where everyone knew each other, so it was safe) and she told the saleswoman "she needs two sets of sweatpants, some t-shirts and a winter puffer jacket, let her choose what see likes and I'll come pick her up and pay in an hour". That's how much of a determined pain in the ass I was about what I liked. And of course, the salesman in the only kids shoe shop on the island totally hated me.
Where do you find style inspiration?
Mostly in films, photography and paintings. Also, I love how some weird materials used in architecture can be interpreted as textures and patterns in clothes. And of course, I am hooked on blogs. I used to read tons of magazines to get my fix, mostly foreign ones which are rather expensive to buy here in Greece, so I've tried to cut back on that habit.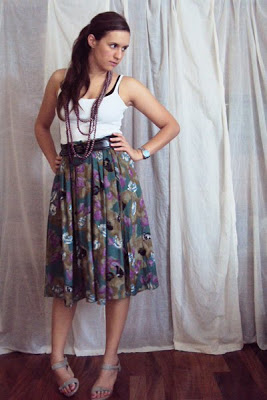 Where are your favorite places to shop?
Real-life shops where I spend a lot of my dough are Zara, Pull&Bear, Massimo Dutti, H&M and Greek brands Attrattivo and Badila. And when I shop online, I usually end up buying a lot from
ASOS
,
Ruche
,
Reverse
(Revolve Clothing's online outlet) and generally whichever shop offers my beloved – but way expensive – Chie Mihara and Maloles shoes on serious discount. Oh, and I also
shop my family home attic
for home-grown vintage. My mum and grandma never threw away anything and I totally take advantage of that.
Could you tell us your top three style tricks/DIYs?
1) Never care about the size on the label. In my wardrobe you can find stuff sized from XS to XL. I never mind asking for a size or two up when I go shopping, I hate tight stuff and that's actually more fabric to drape and play with!
2) I love to find new ways to wear clothes already in my wardrobe. I am known to cut up dresses I don't wear much to make skirts, like Casey. If you can't even sew a button, don't worry. A less invasive method to do that, that doesn't involve cutting up stuff and resewing it into something new is wearing your dresses as skirts by using a belt to hold them into place.
3) Ask your grandmas or aunts for stuff they don't wear anymore. Most of them are quite the pack-rats so they have a stash, and usually they are more than eager to give their old clothes a new chance in life by letting you have them. It's also free, green and it bonds you with your family. Win, win and win!
Thanks so much, Lopi! I'm looking recommendations for other Real Life Style Icons. Do you know any fashion bloggers with great photos, interesting outfits and clothes that don't cost an arm and a leg?