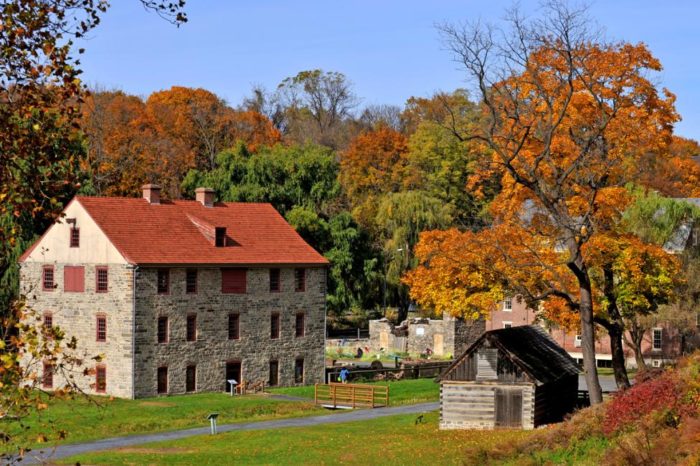 Friends!

Last week I spent a few days in the Lehigh Valley and now I won't shut up about it. As you know, I loooooove slightly-under-the-radar destinations and I really need to tell you about this one.

It'll be particularly gorgeous when the leaves change (and potentially closer/cheaper/less crowded than Maine or Vermont.)
Some thoughts + a potential itinerary for the Lehigh Valley
The Lehigh Valley is less than three hours from Philly, NYC, and DC. If you live in NYC and you're looking for a getaway, OMG GO HERE INSTEAD OF THE HUDSON VALLEY. It's not much further, the traffic is so much lighter, and the lodging prices are much lower than the Hudson Valley.



Case in point: Lehigh Valley: The Historic Hotel Bethlehem is a 4-star hotel and rooms start at $189. Hudson Valley: The Diamond Mills Hotel is a 4-star hotel and the rooms start at $300.This 2-bed, 4-guest Airbnb in a historic home is $109 a night! (P.S. If you've never used Airbnb before, here's $40 towards your first booking!)

Wander downtown Bethlehem and die over the cuteness – their historic downtown has been placed

 the US Tentative List for nomination as a UNESCO World Heritage Site (!!!)

Shop at the The Moravian Book Shop, the oldest bookstore in the country. It opened in 1745!
Swing by Vegan Treats for a delicious whoopie pie – a Pennsylvania specialty. And maybe stop next door at The Bethlehem Dairy Store for some amazing homemade ice cream.
Pop over to Easton (15 minutes away) for their farmers' market – it's around a fountain! – and poke around The Easton Antique Emporium for some beautifully curated goods.
Walk one block over to the Easton Public Market for great fresh food, cute vendors, and kid-friendly play spaces.
Come back to Bethlehem for the evening and visit Steel Stacks – the old Bethlehem Steel factory that's been turned into a park, elevated walkway, and a space for live music and movies. Check out one of the indie movies playing at the theater or grab dinner at one of the three restaurants. 
No joke, I groaned "Ugggggh, cuuuuuuuute" about 15 times a day while visiting this area and fell down a Zillow rabbit hole looking at real estate – which is how you know a town is truly great.

P.S. If you live someplace where historic houses cost more than $200k don't look at Bethlehem's Zillow. You'll just end up crying and planning to move. DON'T SAY I DIDN'T WARN YOU!!!
Anyway – Links for you!
If you think you have Too Many Feelings, this is for you.
This is probably filed under the heading of "Nobody cares, Sarah" but I get tons of questions about how I get all that volume in my hair. For a long time, the answer was Aveda Dry Shampoo, but I've officially switched this. It's $20 cheaper (!!) and because it's a paste it won't spill when I travel. Note: it's very texturizing and it won't make your hair feel 'clean,' but it'll definitely get rid of greasy roots and give you an absurd amount of volume!
Totally co-signed on this! Interior Design Is More Than Pretty Spaces, It's Also Self-Care
Loved these photos of roadside U.S.
Reminder: your dreams are possible and valid (even if they might not look exactly the way you think they will)
A very sweet article about the end of Car Talk. Those brothers were so sweet and funny!
Some other Car Talk words and phrases The Boston Globe identified: "dope slap," or a quick, corrective slap to the back of the head in punishment of stupidity; "urgent haircut," or the need to relieve oneself; "T.S., Eliot," or a public-radio friendly way of saying "tough shit"; "schnerdling," a word with Icelandic origins to mean toilet; and "boat payment," a unit of measurement arising from Ray's discovery that the least scrupulous mechanics he knew all owned boats.
This is exactly what I want my space to look like!
I was on the Woke & Wired podcast this week talking about how I developed an intentional relationship with money + how I verrrry carefully curate what I see on Instagram so it's inspiring and helpful, not disheartening.
Related: this made me truly laugh out loud.
Ashley is traveling around Transylvania (long on my to-visit list) and I'm gobbling up her Instagram posts!
Also: I know I already told you that I'm reading this book and it's great. If you're on the fence about immigration, granting people asylum, or you don't understand why we'd ever allow people into the U.S. who can't 100% financially support themselves, pleeeeease read it. (It's a very enjoyable novel! It's not a dry, non-fiction book that will talk down to you about immigration policy!)
We're in the process of redesigning the Yes & Yes website and cleaning up the clutter that comes with 11 (!!!) years of blogging. To that end, on September 23rd we'll be retiring the Yes & Yes Free Resource Library and its TEN free workbooks. If you haven't signed up for the library yet, do it now!
Hope you had a lovely week, friends.